Do you know what Customer Service: +1-855-704-6348 is?
You can probably tell that Customer Service: +1-855-704-6348 is a particular message that appears on your computer screen when you go about your daily routine. In our database, this message is classified as a fake alert. It means that it notifies you of something that does not exist. For the most part, such messages appear because the people behind them want to make easy money, but you should not fall for it at any cost. You have to get rid of Customer Service: +1-855-704-6348 for good and that is possible to do when you terminate the program that is generating this annoying message.
It is very easy to believe that something is not right with your computer because this program can modify the Windows Shell configuration in a way that it does not allow you to load your desktop image. You might think that you have problems with your operating system's product key or the latest upgrade. It would not be surprising because Customer Service: +1-855-704-6348 is there to swindle you out of your money by convincing you that you need a new product key or some new program that would allow you to run your computer properly again.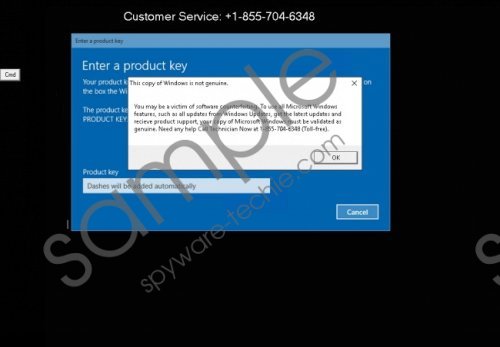 Customer Service: +1-855-704-6348 screenshot
Scroll down for full removal instructions
Needless to say, there are no grounds to believe whatever this notification says. In fact, we are sure that the Customer Service: +1-855-704-6348 message was installed on your system without your permission. After all, you do not know where it comes from, right? Our research team suggests that the installer for this message could be distributed in software bundles. For instance, it might be available in various random installers that are hosted on file-sharing websites. At the same time, it also means that you have more than just one potential threat on your computer because such programs obviously travel in packs. Therefore, perhaps it is about time you scan your PC with a licensed antispyware tool of your choice.
When the program behind this notification enters your system, it drops a new folder titled "update" in the Program Files and Program Files (x86) directories. In this folder, you can find a file named activate.exe. Once this file is run, your screen gets locked, and you see the fake pop-up notifications. How does this file get activated? If you remember, we mentioned in the previous paragraph that the infection changes your Windows Shell configuration. Whenever you turn on your computer, the system should launch the explorer.exe file, but with these new modifications, it loads the activate.exe file instead. As a result, your usual desktop background disappears, and you see the Customer Service: +1-855-704-6348 notification.
This infection expects you to fall for this scheme. For instance, one of the pop-ups looks like a legitimate Windows Product key verification prompt. If your copy of Windows is not genuine, it is really easy to believe the notification is the real deal. However, Microsoft would never lock up your computer like that. Thus, it should be clear that you are dealing with an intrusive program that has been designed to steal your money.
Unless you get rid of this program, you will not be able to access your files or run your computer. Although manual removal is rather complicated, it is still possible to achieve if you follow the instructions below. However, if you feel that dealing with the Windows Registry is too much of a task for you, you should refer to professionals.
Before you run a computer security program, though, you should still kill the malicious process that locks your desktop. That is not too hard of a task, and the steps on how to do it are included in the removal instructions.
If you think that you cannot do that on your own, do not hesitate to contact us by leaving a comment below this description. Our team is always ready to assist you. Also, when you get rid of the Customer Service: +1-855-704-6348 message, please make sure that your computer is protected against various threats. The best way to do that is to invest in a powerful security application that would keep your PC safe 24/7. Then you would definitely face fewer threats on a daily basis.
How to Remove Customer Service: +1-855-704-6348
Press Win+R and the Run prompt will open.
Type taskmgr into the Open box and click OK.
When the Task Manager opens, click the Processes tab.
Highlight the activate.exe (32BIT) process and click End Task.
Press Win+R again and type regedit. Click OK.
Go to HKEY_LOCAL_MACHINE\SOFTWARE\Wow6432Node\Microsoft\Windows NT\CurrentVersion\Winlogon.
Right-click the Shell value on the right. Select Modify.
Replace activate.exe with explorer.exe. Click OK.
Go to HKEY_CURRENT_USER\Software\Microsoft\Windows NT\CurrentVersion\Winlogon.
Right-click the Shell value on the right pane. Choose Modify.
Replace activate.exe with explorer.exe and click OK.
Go to HKEY_LOCAL_MACHINE\Wow6432Node\Microsoft\Windows\CurrentVersion\Uninstall.
Under Uninstall, right-click the Update key and select Delete.
Close Registry Editor and go to C:\Program Files (x86).
Locate and delete the update folder.
In non-techie terms:
There are many annoying infections out there that lock your desktop and display fake notifications. Customer Service: +1-855-704-6348 is one of them. This program will not allow you to access your files unless you purchase the updated "product key." Of course, this scheme is a downright scam, and you should never pay a single cent when such message appears because you will only give away your money, and you will get nothing in return. Thus, you have to remove Customer Service: +1-855-704-6348 right now to restore your system's stability.