Do you know what Customer Promos is?
Customer Promos is a recently created adware application that affects only the Internet Explorer and Mozilla Firefox browsers, so Google Chrome users do not need to worry about it. Security specialists alert us about the damaging consequences of using this program. Generally, this adware displays various ads that might slow down your browser. Usually, such behavior is considered to be annoying and not tolerable by users. However, these ads can lead you to harmful websites that might do much more damage than you have imagined. Therefore, we advise you to remove this program right now instead of waiting till something goes wrong. If you do not know how to erase it, you can use our recommended steps below the article.
Customer Promos files are signed by Progressive Digital, a company that has released adware and potentially unwanted programs before. Also, Customer Promos is a clone program of Dragon Branch, Glass Bottle, Sale Charger, and others. Apparently, this adware has its official website on customerpromos.com, but the site is mainly created to show such documents as End User License Agreement and Privacy Policy. Otherwise, there are not that much information on it, and importantly, there is no download link. So you might wonder how it spreads, if not through its official site.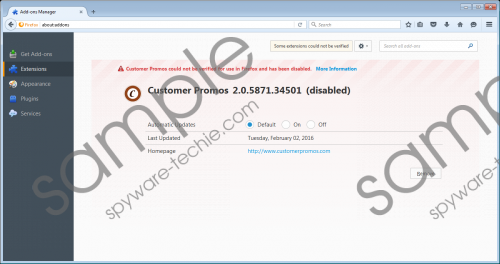 Customer Promos screenshot
Scroll down for full removal instructions
In fact, it might be so that you installed Customer Promos without realizing it. This adware can be spread through bundled malicious installers, meaning, it might have been attached to another piece of software and together they entered your computer. In other words, you install chosen freeware as well as the attached program at the same time. Probably, you did not notice that you could have removed the ticks next to the suggested applications and by doing so avoid getting them. Usually, you can see these options in the installation wizard's advanced settings, but if you go with the automatic installation, you lose the ability to deselect. It is recommended to read installation steps carefully every time you install any kind of software so that later there would be no surprises.
As we have said earlier, Customer Promos can show you a lot of annoying ads that belong to a Third Party. This adware is paid for advertising Third Party products and services: that is why your clicks are so important. After installation, you will notice pop-ups generated by Customer Promos in your Mozilla Firefox and Internet Explorer browsers. Although these ads might look harmless to you, if you click on them, there is a chance that you will be redirected to an unreliable website. Perhaps, you will be convinced to buy some product online, but the problem is that this online shop can be fake. Without realizing it, you could reveal your credit card's PIN and other sensitive information. The other danger is that your computer might get infected with Trojans, worms, etc. while visiting unreliable pages belonging to a Third Party.
However, Customer Promos does not take any responsibility for any damage that you might receive while clicking on pop-ups or visiting the websites that you are redirected to. So "When you click on or access an ad or link, submit information, or otherwise engage with Third Party Content, you are interacting with the Third Party providing such content, not with the Company." In other words, it is not Customer Promos' problem and the fact that they protect themselves by refusing any responsibility makes them look unreliable. What's more, this adware can connect to the Internet without your permission. It acts like this so it could update itself, but it might download additional unwanted programs such as browser hijackers or different adware, too. With more ads and pop-ups your browser might slow down, so it would be difficult to surf the Internet normally. As you realize now, there are many bad possible outcomes and only by removing this application you can avoid them this time. Consequently, we advise you to avoid such programs in the future, too.
Undoubtedly, Customer Promos is a program that you can live without. In fact, removing this application would be smart. As you realize, this adware is an annoying and useless program and by using it, you can harm your computer. If you understand that there is no point in leaving it on your system, you can follow our instructions below and remove this adware. It is quite simple to delete this program through Control Panel or remove it from your browsers. However, it still leaves junk files that you will have to find and erase manually. If you still have any questions about removal leave us a comment, and we will try to help you as soon as we can.
Erase Customer Promos via Control Panel
Windows 10 and Windows 8:
Press Win+R and launch the RUN.
Type Control Panel and click OK.
Select Uninstall a program.
Find the adware and click Uninstall.
Windows 7 and Windows Vista:
Go to the Start menu and select Control Panel.
Click on Uninstall a program.
Select the program and click Uninstall.
Windows XP:
Open Start.
Select Control Panel.
Choose Add or Remove Programs.
Find the application and select Uninstall.
Remove Customer Promos from browsers
Internet Explorer:
Click on the settings icon on the top-right corner.
Select Manage add-ons and choose Toolbars and extensions.
Locate the adware and erase it.
Mozilla Firefox:
Press CTRL+SHIFT+A.
Choose Extensions.
Select the program and click Remove.
Remove the remaining junk files
Locate these paths: C:\Program Files (x86)\Customer Promos; C:\Program Files\Customer Promos.
Delete Customer Promos folders from them.
Delete the remaining keys from the Windows Registry
Press Windows Key+R.
Type regedit and click OK.
Locate and remove Customer Promos, Service MgrCustomerPromos, Update MgrCustomerPromos keys from these particular paths:
HKEY_LOCAL_MACHINE\SOFTWARE\Wow6432Node\CustomerPromos.
HKEY_LOCAL_MACHINE\SOFTWARE\CustomerPromos.
HKEY_LOCAL_MACHINE\SOFTWARE\Wow6432Node\Microsoft\Windows\CurrentVersion\Uninstall\CustomerPromos.
HKEY_LOCAL_MACHINE\SYSTEM\ControlSet001\services\Service MgrCustomerPromos.
HKEY_LOCAL_MACHINE\SYSTEM\ControlSet001\services\Update MgrCustomerPromos.
HKEY_LOCAL_MACHINE\SYSTEM\CurrentControlSet\services\Service MgrCustomerPromos.
HKEY_LOCAL_MACHINE\SYSTEM\CurrentControlSet\services\Update MgrCustomerPromos.
In non-techie terms:
Customer Promos is just another adware program that seeks only your clicks, while you get nothing from it besides irritating ads that might be harmful as well. Leaving it unattended is not an option as it acts without your permission, so we advise you to delete it before anything bad happens. Also, you should think about ways you could protect your system. For starters, you could try to avoid downloading freeware from unreliable websites. Moreover, always think twice if you need a particular application and read carefully the installation wizards steps to avoid getting unwanted programs.