Do you know what Currency Calc is?
Currency Calc is a potentially unwanted program that might enter your computer in a software bundle. It is a useless program that does not perform its main functions. You may think that Currency Calc will help you convert currencies with a single click of your mouse, but that does not happen. Instead, the application allows you to change your browser settings and just eats up your system resources, doing nothing useful. If you are a security-minded user, you will make sure that you uninstall Currency Calc from your computer at once. After all, why would you want to keep a program that is simply a waste of space?
Some users may think that Currency Calc enters their systems behind their backs. If you did not intend to have this application, it is only natural to think that it infected your computer surreptitiously, but that is not true. Currency Calc is not a malicious infection. As mentioned above, it is a potentially unwanted program. Potentially unwanted programs need a user's permission to enter a target computer, so it means that you installed this application yourself. It is very likely that you were not aware of that because Currency Calc never comes alone. So you most probably were too focused on some other application to notice that additional programs sneaked in as well.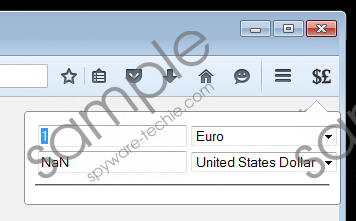 Currency Calc screenshot
Scroll down for full removal instructions
The files of this program are signed by Ivan Malygin. This would suggest that there is one person responsible for this application, although it is obvious that Currency Calc employs freeware distribution networks to travel around the web. The guys from our research team say that the most common way for Currency Calc to enter your computer is to come bundled with Russian software. Thus, if you frequent Russian websites, especially the ones that are related to adware, it is only a matter of time until you get the likes of Currency Calc on your system.
What's more, during the installation Currency Calc will offer to set Goinf.ru as your default homepage and search engine. That would not be a good idea because this search engine is associated with potentially malicious third parties, and you could end up being redirected to malware-related websites. In other words, you always have to think about your computer's security when you encounter such unfamiliar tools and applications. Just because Currency Calc and Goinf.ru do not look malicious does not mean you should tolerate them.
Protect your system from potential threats by removing Currency Calc today. Luckily you can do it via your Control Panel. Simply uninstall the application and you will no longer see this application. However, that is not the end. There are more potentially unwanted programs on-board that require your attention.
In case you do not know which programs have to be deleted, scan your PC with the SpyHunter free scanner. This is the most efficient way to find out what applications may cause security issues. When you get a list of unnecessary programs, terminate them all at once. Finally, make sure your computer is protected against similar intruders in the future and stay away from unfamiliar websites that might be part of adware and malware distribution networks.
How to Remove Currency Calc
Windows 8 & Windows 8.1
Move the mouse cursor to the bottom right of your desktop.
Click Settings on the Charm bar and go to Control Panel.
Select Uninstall a program and remove Currency Calc.
Windows Vista & Windows 7
Open the Start menu and click Control Panel.
Go to Uninstall a program and remove Currency Calc.
Windows XP
Click the Start button and navigate to Control Panel.
Access Add or remove programs and uninstall Currency Calc.
In non-techie terms:
Currency Calc is not as useful as you think it is. It does not help you convert currency. In fact, the program might be associated with potential security threats that you definitely have to take into consideration. Your best option in this situation is to remove Currency Calc at once, and then invest in a legitimate computer security program that would ensure no other similar applications enter your system again.