Do you know what CryptoPriceSearch Toolbar is?
You should not install CryptoPriceSearch Toolbar even though it does seem to be a useful application for those who want to learn about cryptocurrencies because this piece of software, no matter how beneficial it seems to be, is not a program that can be called trustworthy. Specialists say that there are several symptoms showing that it is a typical potentially unwanted application. For example, it might be spread bundled and thus get onto users' computers without their knowledge. Also, as research has shown, it is not as useful as it is presented. All it does is setting a new page on users' web browsers. You will find it set on your Internet Explorer, Mozilla Firefox, and Google Chrome because this piece of software is compatible with all three browsers. Remove CryptoPriceSearch Toolbar mercilessly today if you do not like the page set. You will find more information about this application in the next paragraph of this article, so if you find it hard to decide what to do with it, read this entire report first. We hope that your final decision will be to remove CryptoPriceSearch Toolbar.
CryptoPriceSearch Toolbar is far from harmful malware, but if you have found it useless or simply do not like it, you have a right to remove it at any time. You should get rid of it also if you have found it installed on your computer without your knowledge. We understand why so many users decide to get rid of this piece of software. In our humble opinion, it is not a very useful application. As has been observed, it only sets a page thus changing users' homepages and New Tab pages. Yes, this page contains buttons that allow users to access third-party websites with the information about cryptocurrencies. Needless to say, users do not need to have CryptoPriceSearch Toolbar installed to access all these pages themselves. Also, they can bookmark them so that they could access them easier. The page set by CryptoPriceSearch Toolbar also has a search box, but we do not recommend using it as your main tool for searching the web because it has been noticed that it is powered by search.myway.com. It might present users with some modified search results. They are not dangerous, but they might redirect users further to untrustworthy websites. It is not a piece of cake to recognize all those modified search results, so we are sure that you will, eventually, click on them. There is one last thing you need to know about CryptoPriceSearch Toolbar if you decide to keep it installed. This browser plugin will automatically collect various details about you. Luckily, they are mainly non-personally identifiable details.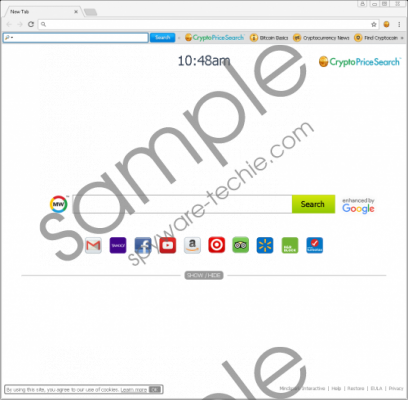 CryptoPriceSearch Toolbar screenshot
Scroll down for full removal instructions
You already know how CryptoPriceSearch Toolbar acts, so let's now talk about its distribution. Specialists who have analyzed this potentially unwanted application say that it can be installed directly from its official website http://www.cryptopricesearch.com/index.jhtml. In addition, users can find it at the Chrome Web Store and install it with the click of a button. On top of that, it might travel bundled, as research has shown. Finally, users might install this piece of software by clicking on the advertisement promoting it. This usually happens accidentally. This piece of software is the same potentially unwanted application in all the cases, so you should get rid of it no matter how it has appeared on your computer. Of course, we cannot promise that you will not encounter a new Mindspark Interactive Network, Inc. product ever again, especially if you keep your system unprotected. We do not say that you must protect your computer against untrustworthy software alone. You should simply enable security software to be safe.
If you use Internet Explorer, you will delete it like a normal program, i.e. using Control Panel. It will be slightly harder to remove it from Mozilla Firefox and Google Chrome, but we are sure you will still manage to take care of it yourself manually if you follow our instructions – you can find them below.
Delete CryptoPriceSearch Toolbar
Mozilla Firefox
Open Mozilla Firefox.
Press Ctrl+Shift+A.
Select the CryptoPriceSearch Toolbar extension.
Click Remove.
Google Chrome
Launch Google Chrome.
Press Alt+F and click More tools.
Select Extensions and locate the CryptoPriceSearch Toolbar extension.
Select it.
Click Remove.
Confirm the removal by clicking Remove.
Internet Explorer
Windows XP
Click the Start button and select Control Panel.
Open Add or Remove Programs.
Select CryptoPriceSearch Toolbar and click Remove.
Windows 7/Vista/8/8.1/10
Press Win+R.
Type Control Panel and click OK to access it.
Click Uninstall a program.
Select CryptoPriceSearch Toolbar.
Click Uninstall.
In non-techie terms:
CryptoPriceSearch Toolbar is presented as useful software, but research has shown that it is not that perfect. It not only changes browsers' settings, but it might also travel bundled, as research has shown. Therefore, we recommend installing another program instead. Users who have already detected/installed it on their computers should get rid of it mercilessly ASAP. No, it is not real malware, but it would be a sin to keep it when there are so many better programs.