So you know what CryptoHasYou Ransomware is?
If your operating system is not protected and you are not very careful, CryptoHasYou Ransomware might take over sooner than you think. The installer of this ransomware usually hides within links or files attached to spam emails, and opening them can silently unleash the infection without your notice. Once installed, this threat performs file encryption using the AES 256 method (RSA 2048 for the encryption of the public key). Once the encryption is complete, this malicious infection terminates the explorer.exe process and presents you with the demands that you supposedly need to fulfill to regain full control over your personal files. If you do not pay the ransom, it is not possible to decrypt personal files; however, paying the ransom is risky as well. Whichever option you choose, you need to delete CryptoHasYou Ransomware from your Windows operating system. Learn more about this process by reading this report.
The main objective behind CryptoHasYou Ransomware is to force you into paying a ransom, and this is expressed via the YOUR_FILES_ARE_LOCKED.txt file. The message within this file is also introduced to you via the Desktop wallpaper that is replaced after disabling explorer.exe. This message informs that a virus has entered your computer and that it is responsible for the encryption of your pictures, documents, videos, spreadsheets, and other personal files. Although this ransomware does not take full responsibility for encrypting your files, it should become obvious that they were corrupted by the same party that has issued this message. After all, no one would randomly ask for $300 after detecting a "virus" to decrypt your files. Unfortunately, there is a sense of rush because the ransom is said to increase by $150 in case you do not pay it soon enough. locked@visitomail.com is the email address that users are asked to contact if they want to have their files decrypted. If you contact this address, it is likely that you will receive instructions regarding the payment of the ransom. Cyber criminals even promise to decrypt your chosen file as proof of effectiveness; however, you need to think carefully before you pay the ransom. Note that the files encrypted by this infection can be identified by the .enc extension attached to them.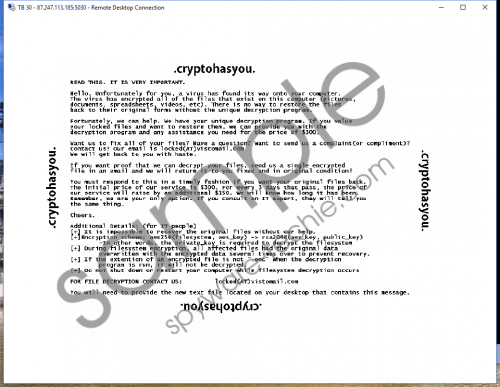 CryptoHasYou Ransomware screenshot
Scroll down for full removal instructions
Are your files securely stored on an external drive or online? If they are, you can remove CryptoHasYou Ransomware without any hesitation. Of course, in this case, you will have to eliminate the encrypted files and replace them with their healthy versions. Speaking of the removal of this ransomware, you need to start the process by restoring explorer.exe, which is not difficult to do. The most important task is to find malicious files. Although we can list the directories in which these files are likely to be found, we cannot list the malicious files themselves. This is because these files might have completely random names. If you have downloaded them yourself from spam emails, you might be familiar with the names; otherwise, you might be a little confused. Of course, if you are scared about deleting the wrong files, we suggest relying on automated malware removal software. If you find and erase these files yourself, use a scanner afterward to see if you have eliminated all of them. The worst thing you could do is miss malicious files that could continue malicious activity, and a malware scanner can help you figure this out.
Delete CryptoHasYou Ransomware
Launch Task Manager (tap Ctrl+Alt+Delete or Ctrl+Shift+Esc).
Click the File tab at the top and select New Task or Run new task (depending on the Windows version).
Type regedit.exe into the Open box and click OK.
Exit the Task Manager and tap Win+E together to launch Explorer.
Type %USERPROFILE%\downloads into the address bar and tap Enter on the keyboard.
Right-click and Delete the malicious file.
Type %TEMP% into the address bar and tap Enter on the keyboard.
Right-click and Delete the malicious file.
Install a reliable malware scanner.
Perform a full system scan to see if your operating system is clean.
In non-techie terms:
CryptoHasYou Ransomware is an infection that was created by extremely devious criminals. Communicating with them and trusting them is very risky, and it is difficult to say whether or not you will have your files decrypted if you follow all instructions introduced to you by cyber criminals. Even if you decide to take the risk, keep in mind that you need to delete this ransomware. Whether you choose the manual or automatic removal option, make sure you restore explorer.exe first; otherwise, you will need to reboot Windows in Safe Mode, and that is extra hassle that you do not need. Once you clean your operating system, ensure full-time protection. If you keep your PC vulnerable, it is a matter of time before the next malicious threat slithers in.