Do you know what .crypted034 Ransomware is?
You probably know already that .crypted034 Ransomware is a file-encrypting infection that invades Windows operating systems. Most likely, you have experienced this threat first-hand. If it encrypted your personal files, you are in trouble. A decryptor now hangs over your head, but it is out of research, as cyber criminals are pushing you to pay money for it. Even if you have enough to satisfy the attackers, there is absolutely NO assurance that you would get the decryptor if you paid for it. Are your files worth taking the risk for? Think carefully about that because once you get involved with cyber attackers, there is no turning back. Needless to say, whatever you choose to do, you need to delete .crypted034 Ransomware from your operating system, and the tips you can find in this report will help you succeed.
First, let's talk about how .crypted034 Ransomware spreads. According to our research team, system vulnerabilities and security backdoors can be used by the infection. In a most basic scenario, the threat's installer could be sent to you as a document file via email. Opening such a file is enough to guarantee successful invasion. That is how Scarab-Good Ransomware, Scarab-Glutton Ransomware, and all other infections from the Scarab Ransomware family spread too. Once they are in, they quickly encrypt files, and our research team has determined that the names of the encrypted files are changed and a new extension (".crypted034") is appended. After that, .crypted034 Ransomware removes itself, which is both surprising and helpful because removal of existing malware is one of the most important tasks.
Of course, before you get to the removal of .crypted034 Ransomware, you have to get past the "HOW TO RECOVER ENCRYPTED FILES.TXT" file. This file is created in every location that contains encrypted documents, photos, and other types of files. The file contains a message that indicates encryption, explains how to purchase Bitcoin for a ransom, as well as shows a few warnings that are meant to trick the victim further. No concrete information is provided however, and victims are urged to email either dou876sh@tuta.io or dou876sh@mail.ee for more information. The message even presents an opportunity to send in three files to be decrypted for free. Do not get hooked by this trick. Even if all three files are decrypted for free, you cannot know if the rest will be decrypted too. In fact, we do not even know if a decryptor exists, and that is why we suggest focusing on the removal.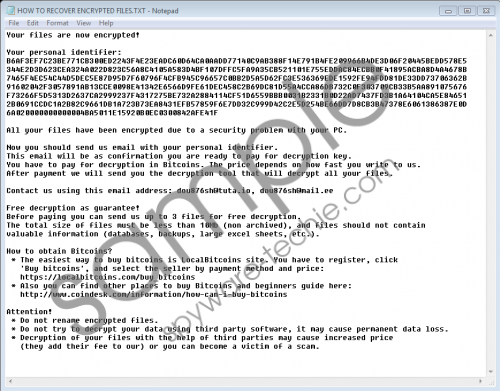 .crypted034 Ransomware screenshot
Scroll down for full removal instructions
As we mentioned already, .crypted034 Ransomware deletes itself, but whether or not this infection will do that in every case is unknown. We always hope for the best, but we need to be prepared for the worst. In case .crypted034 Ransomware does not eliminate itself, you have to examine your operating system, which you can do using a legitimate malware scanner. If a threat is detected, you can try to remove it yourself, or you can upgrade the scanner to a full anti-malware tool. We strongly suggest taking this route because besides eliminating active threats, the tool will also ensure that they do not attack again, and reliable protection is extremely important.
Delete .crypted034 Ransomware
Install a legitimate malware scanner to inspect your operating system.
If the launcher of the ransomware remains present, find and Delete it ASAP.
Also, Delete all copies of HOW TO RECOVER ENCRYPTED FILES.TXT.
Empty Recycle Bin to complete the removal.
In non-techie terms:
The malicious .crypted034 Ransomware encrypts files not because it wants to ruin them but because it wants to make you pay money. According to the ransom note that this infection delivers using a TXT file, victims must contact cyber criminals to get details regarding a payment (the ransom), and once it is paid, a decryption tool would be sent to restore files. Would it? Highly unlikely. Cyber criminals cannot be trusted because they are willing to tell any lie to get what they want. If your files were encrypted, you will save them only if backup copies exist. Otherwise, you might as well just delete them. Speaking of that, it is important to check if you need to remove .crypted034 Ransomware as well. Although it should eliminate itself, you do not want to leave anything up to chances when it comes to malware. It is best if you install an anti-malware tool that will examine your system and automatically remove found threats.