Do you know what Crypt.locker Ransomware is?
You opened this page because you need to remove Crypt.locker Ransomware from your computer. This malicious infection will try to rip you off by making you pay a ransom fee. It should be pointed out that spending your money on this infection is not the answer to this situation. By spending your money on this infection, you would only give these criminals what they want. Instead, you can get rid of the application manually by following the instructions you will find below this description. After that, be sure to invest in a security application that will help you protect your PC from similar intruders in the future.
There is a notorious ransomware infection called Jigsaw Ransomware, and this program is one of its versions. In fact, the infection and encryption methods used by Crypt.locker Ransomware are practically the same as the ones employed by Jigsaw Ransomware. The main thing that differentiates the two is the ransom note and the extensions that the programs use to on the encrypted files. For example, Jigsaw Ransomware will add the ".fun" extension to the affected files, while Crypt.locker Ransomware will add the ".epic" extension to the encrypted files.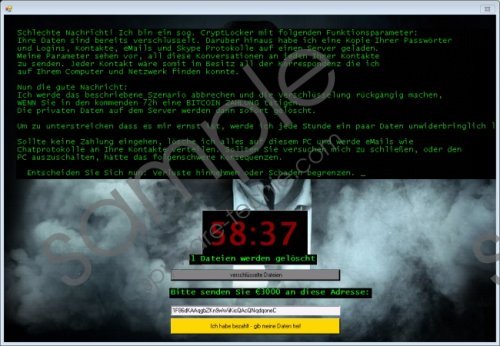 Crypt.locker Ransomware screenshot
Scroll down for full removal instructions
On the other hand, the encryption mechanism used by both infections is practically the same. Thus, it means that there is a decryption tool available for this infection, and you do not need to worry about what you should do with your files. Just look for "Jigsaw decrypter" online, and you should be redirected to the public decryption tool immediately. However, if you have copies of your files saved someplace else, you can restore them from the backup without looking for the decryption tool. However, you have to remember that no matter which method you choose, you should remove Crypt.locker Ransomware from your computer before you restore your files. If the infection is still there when you transfer the healthy files into your computer, the ransomware might encrypt them again.
The unique thing about this infection is that it comes in two languages: German and English. That would suggest that the main target of this program is the Germany-speaking computer users. It does not necessarily mean that the program intends to infect only computer users in Germany. Malware does not recognize national borders, and Crypt.locker Ransomware most certainly will not do that, too. It is just a heads up that that users in particular countries might be more susceptible to this infection than others.
When the infection takes place, the program creates to identical files. It is peculiar as to why two files are created because the program launches only one of them. The second file only has a registry key created for it. It is interesting to note that Crypt.locker Ransomware disguises its files as Dropbox and Firefox files. Of course, these files are fake and not related to the official applications in any way. But these files are standard for almost all Jigsaw variants, so if any new clone appears any time soon, it is also very likely that it is going to create fake Firefox and Dropbox files.
Also, we should point out another disturbing feature of this infection. Crypt.locker Ransomware and other Jigsaw Ransomware variants can randomly delete various files each time you restart your computer trying to get rid of the ransom note. After all, the ransom note will lock your screen and it does not have any close button. Of course, it is possible to kill it via Task Manager, but it is very unlikely that most of the users would consider doing that.
Please do not even think of paying 3000 EUR to the people behind this despicable program. Remove Crypt.locker Ransomware with the instructions provided by our security team. If you find manual removal too much of a challenge, you can also invest in a security application that will run a full system scan and delete the infection for you. However, you might still need to kill the ransom note yourself, so please check each step carefully to get rid of the notification that covers your entire screen.
If you have more questions about this ransomware infection and how to protect yourself from similar intruders, please leave us a comment, and we will reply as soon as possible.
How to Delete Crypt.locker Ransomware
Press Ctrl+Shift+Esc to open Task Manager.
Click the Processes tab and kill the firefox.exe and/or drpbx.exe processes.
Press Win+R and the Run prompt will open.
Type %APPDATA% into the Open box and click OK.
Remove the Frfx folder from the directory. Press Win+R.
Type %LOCALAPPDATA% and click OK.
Remove the Drpbx folder and press Win+R.
Type regedit into the Open box and click OK.
Navigate to HKEY_CURRENT_USER\Software\Microsoft\Windows\CurrentVersion\Run.
Delete the firefox.exe entry and close Registry Editor.
In non-techie terms:
Crypt.locker Ransomware is a very dangerous program, but we are lucky that there is a public decryption tool available for it already. Nevertheless, you should take this infection seriously and deal with it at once. The best way to terminate such program is to invest in a legitimate security tools that would also protect your computers from similar intruders in the future. Do what is best for you and your system by terminating Crypt.locker Ransomware right now.