Do you know what Cryp70n1c Ransomware is?
It seems that more and more spin-offs like Cryp70n1c Ransomware surface in the so-called Hidden Tear Ransomware family. This family uses the open-source code of Hidden Tear as a base to build new malicious variants of a once educational program. This is how Goofed Ransomware, French Ransomware, and Bass-fes Ransomware among others were born. You need to know that you may lose all your personal files in this malicious attack if you do not have a backup in cloud storage or on a portable drive. Even if you decide to pay the ransom fee to get the decryption key, chances are you will get infected again. Cyber crooks very rarely send their victims the key or software to decrypt their encrypted files. Our researchers advise you to remove Cryp70n1c Ransomware as soon as possible because this is the only way for you to restore your computer so that you can safely use it.
When your system is infected with this vicious program, it is quite likely that you have opened a spam e-mail recently and clicked to see its attachment. The malicious executable file of this ransomware is spread as an attached file, which can be disguised as an image, a video, or a document. This spam tries to convince you that this attachment contains vital information that you "must see." You can be tricked by the sender name and e-mail address combo, which may make you believe that this spam has come from the local authorities or a well-known company so that you would take it seriously right away. The subject field also plays a very important role in this scam as this is why you actually want to open this mail for further information.
However, the only information about the alleged urgent matter (e.g., an unsettled invoice) will be shared in the attachment, at least, this is what you are led to believe. Unfortunately, this is not true. In fact, you will only infect your computer with this devastating ransomware when you click to run this attachment. This is practically the point of no return because you will not be able to save your files from encryption even if you think you managed to delete Cryp70n1c Ransomware in time. We advise you to be more careful with opening your mails and not to open attachments that come with questionable mails. It is also essential that you avoid suspicious websites (e.g., torrent, freeware, gaming, gambling, etc.) because these may also infect your system if you were to click on the wrong content. You should also update your browsers and Java and Adobe Flash drivers as well if you would like to avoid malicious attacks via Exploit Kits. Remember that removing Cryp70n1c Ransomware will not recover your encrypted files.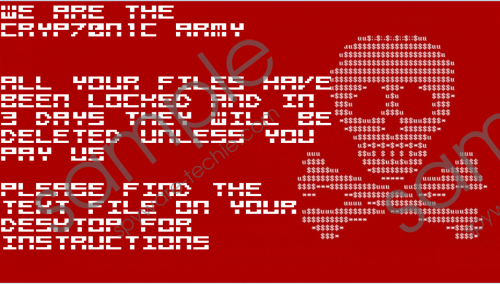 Cryp70n1c Ransomware screenshot
Scroll down for full removal instructions
This ransomware infection mostly targets default media and other default directories. It can encrypt all your photos, videos, documents, archives, and more. After a file is encrypted, it will assume a new extension, ".cryp70n1c,"and will look something like this: "filename.jpg.cryp70n1c." Although this ransomware replaces your desktop background image with its ransom note, it is really a warning message and therefore it also uses a text file it places on your desktop. This file is called "READ_IT.txt" and you are instructed to read it for more information about the payment.
You have to pay 0.05 Bitcoins (approximately 720 dollars at the time of writing) to a Bitcoin address that is disclosed in the text note. If you fail to pay within 3 days, you are threatened that your files will be deleted. We do not advise you to pay because you would support cybercrime on one hand. On the other hand, there is no guarantee that you will get anything for your money. Thus, we suggest that you take action right now and remove Cryp70n1c Ransomware from your computer.
Before you move on to delete all the related files, you should replace your desktop background image. Then, you can continue by using our instructions below this article. Please take into consideration that there could be other, even if less dangerous, threats on your system. Therefore, we highly recommend that you use a reliable anti-malware program, such as SpyHunter to automatically take care of all present infections and protect your PC against future ones as well.
Remove Cryp70n1c Ransomware from Windows
Tap Win+E.
Delete these from your system:
%HOMEDRIVE%\user\Rand123 | local.exe
%HOMEDRIVE%\user | ransom.jpg
%USERPROFILE%\Desktop| READ_IT.txt
Find and delete the malicious file you launched.
Empty your Recycle Bin and restart your PC.
In non-techie terms:
Cryp70n1c Ransomware is yet another variant based on the well-known Hidden Tear open-source project. This ransomware can slither onto your system and encrypt all your important files. What is worse, this new variant can also start up automatically with Windows and encrypt any new files you may create or download. Although you are offered the decryption key for about 720 dollars' worth of Bitcoins, we would not encourage you to pay this amount or any amount for that matter. It is always risky since cyber villains rarely keep their word. The best way to protect your files when you do not have security software installed is to make regular backups onto a portable hard disk, for instance. We recommend that you remove Cryp70n1c Ransomware immediately. If you would prefer a comfortable method to take care of your system security issues, we suggest that you install a trustworthy anti-malware application; the sooner, the better.