Do you know what Creative.m2pub.com is?
Creative.m2pub.com is an adware server that generates commercial advertisements for a number of adware applications. Based on security research, this adware server is utilized by Conduit family toolbars and Lyrics family adware applications. Therefore, you notice random pop-ups on your web browser that redirect to Creative.m2pub.com; it means that you have an adware application installed on your PC. Consequently, in order to remove Creative.m2pub.com you need remove an associated adware program first. There might be more than just one potentially unwanted application on your PC, so do not hesitate to terminate all of them.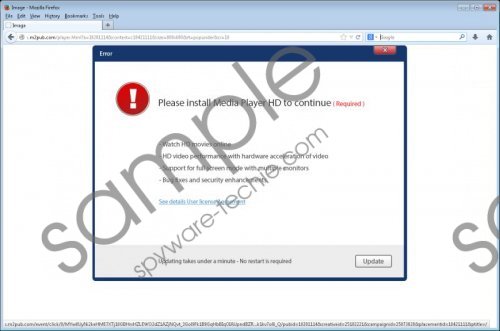 Creative.m2pub.com screenshot
Scroll down for full removal instructions
The reason why Creative.m2pub.com ads might be no only annoying but also misleading and dangerous, is that they do not present you with reliable information. For the most part, Creative.m2pub.com server generates pop-ups that urge you to install new media players, upgrade java plug-ins and so on. You are told that with the newest install or update you will be able to view media files and online videos a lot faster. However, that is not exactly the case, because it is very likely that Creative.m2pub.com ads distribute certified media players. In fact, when we clicked one of the pop-ups we were redirected to yac.mx, which is a main homepage for Yet Another Cleaner.
It shows that Creative.m2pub.com ads and all the adware applications that make use of it distribute other potentially unwanted applications and adware programs in order to generate financial revenue for its creators. It is not an illegal practice, and you definitely click the ads at your own risk, but no one would want to experience any kind of money loss because of the likes of Creative.m2pub.com. Therefore, the next time you notice the following ad, simply close it at once:
Please install iMesh
(Recommended)
Listen to music online

100% safe, 100% FREE

Share music you love

Download music
It is very likely that you will be redirected to unrelated websites that distribute even more unwanted applications (as it happened to us). What is more, even though it may not be the main purpose of adware applications, in the long run they can easily expose you to malware distribution schemes, and your PC could get infected with dangerous threats that want to destroy your system and rip you off completely.
Scan the PC with SpyHunter free scanner and check what kind of adware program is installed on your system. Terminate the program to remove Creative.m2pub.com and then invest in a licensed antispyware application that would guard your system from similar threats in the future. Do all it takes to ensure system security.
Uninstall unwanted adware applications
Windows 8
Slide mouse cursor to the bottom right of your desktop.
Wait for Charm bar to appear and then click Settings.
Go to Control Panel and select Uninstall a program.
Highlight an adware program and click Uninstall to remove it.
Windows Vista & Windows 7
Open Start menu and select Control Panel.
Go to Uninstall a program and remove unwanted adware applications.
Windows XP
Go to Start menu and navigate to Control Panel.
Select Add or remove programs and uninstall adware applications.
In non-techie terms:
Creative.m2pub.com adware server displays annoying pop-up ads that promote misleading information and redirect you to suspicious websites. To remove Creative.m2pub.com from your computer, terminate all the adware applications right now and get yourself a powerful antispyware tool.