Do you know what Coupons Free is?
Coupons Free is a SuperWeb application that has been designed to display annoying commercial advertisements whenever you access supported online shopping sites. This program is not a malicious infection, but that is no reason to keep Coupons Free on your computer. The point is that you must remove Coupons Free from your system as soon as possible because adware programs are often exploited by cyber criminals to promote and distribute corrupted content. As long as Coupons Free remains on your computer, your web browsing sessions will never be safe.
Since this adware application belongs to the SuperWeb family, it is practically identical to Information Cloud, iShopper, Plain Savings. Any more experienced computer user would be able to tell that from the application's homepage that can be accessed at couponsfreeapp.com. This website is just an empty shell that is used to create an impression that Coupons Free is a reliable application you can trust. However, clicking the Start Now! button does not lead anywhere, as the direct download link does not work, and you are only redirected to a blank new page.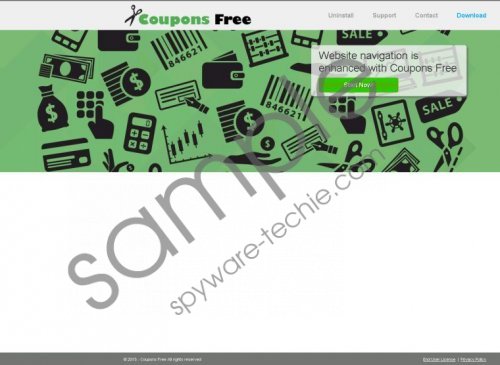 Coupons Free screenshot
Scroll down for full removal instructions
Seeing how Coupons Free cannot be downloaded from the main homepage, we can conclude that users do not download this application consciously. Hence the misunderstanding that Coupons Free is a malicious infection. After all, if you don't want the application and yet it is still there on your computer, it means that it is a dangerous infection, right? Well, not exactly. It is very likely that you have downloaded and installed Coupons Free on your computer yourself. You see, such adware applications usually get distributed in software packages, so, most probably; Coupons Free was installed on your PC along with some other shareware applications you have recently downloaded from a third-party website.
Coupons Free tries to promote itself as a useful application that is supposed to help you purchase your favorite goods at a lower price, but that is not happening because all the pop-ups Coupons Free displays are embedded with third-party outgoing links. It means that the adware application does not check what kinds of links are used in the ads, and so some of the links might be embedded there by cyber criminals.
Most of the time, third-party links lead to adware-related websites, but sometimes they might also redirect you to pages that are part of malware distribution network, and that is definitely something you must avoid. Remove Coupons Free from your system via Control Panel and then get yourself a powerful antispyware application that would take care of other potential threats that could be running on your computer.
How to Remove Coupons Free
Windows 8 & Windows 8.1
Move the mouse cursor to the bottom right of your screen.
When the Charm bar appears click Settings and go to Control Panel.
Open Uninstall a program and remove Coupons Free.
Windows Vista & Windows 7
Click the Start menu button and go to Control Panel.
Select Uninstall a program and remove Coupons Free.
Windows XP
Press the Windows key and open Control Panel.
Go to Add or remove programs and uninstall Coupons Free.
In non-techie terms:
Coupons Free is a program that you should not tolerate any longer. This application tracks your web browsing habits and then utilizes this information to expose you to customized commercial ads. Clicking them could lead you to dangerous websites and eventually serious malware infections. It is obvious that you should avoid any potential security threats at all costs, so terminate Coupons Free at once.