Do you know what Coupons-Bar Startbar is?
Coupons-Bar Startbar is a browser extension also known as Couponsbar or Couponsbar search. It can be easily installed on Mozilla Firefox and Internet Explorer web browsers and is considered to be a browser hijacker. At first it may seem that Coupons-Bar Startbar can enhance your web browsing experience but that is hardly the case, because this browser extension is related to a group of potentially unwanted applications and browser hijackers that can inflict serious damage to your computer's security. Thus, it is necessary to remove Coupons-Bar Startbar from your computer immediately.
Luckily, Google Chrome seems to be immune to Coupons-Bar Startbar, but that does not mean you can heave a sigh of relief here. With Coupons-Bar Startbar on board, you will still experience a default search engine modification, homepage change and exposure to a whole variety of potentially corrupted content.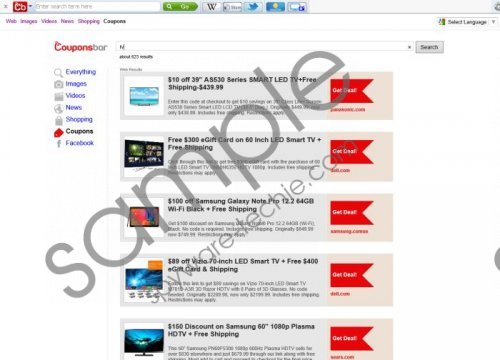 Coupons-Bar Startbar screenshot
Scroll down for full removal instructions
Our team has actually encountered similar infections before, and the guys were quick to see that Coupons-Bar Startbar is very similar to Snap.do in order to installer and the way Coupons-Bar Startbar makes use of the same Smartbar engine. With that, we can please Coupons-Bar Startbar onto the same shelf as the rest of the browser extensions from Snap.do family – BeeCoupons Smartbar, SavePass Smartbar and many others.
It is very unlikely that users download Coupons-Bar Startbar directly from third party distributors. Actually, the main method of distribution for these kinds of application is bundled downloads. It means that Coupons-Bar Startbar setup file is included in the same packaged with a list of other freeware applications and it can be downloaded on a number of third party file hosting web pages.
Our tech lab suggests that Coupons-Bar Startbar is usually bundled with adware applications, and adware apps are commonly distributed via annoying pop-ups, random commercial websites and online surveys. It means that you should refrain from clicking links to unfamiliar websites, or pop-up ads that offer you to install or upgrade your software. Download software upgrades only from official sources, because third party links may lead to Coupons-Bar Startbar and similar extensions entering your PC.
In case you install Coupons-Bar Startbar onto your PC with a full set-up, this application will change your default homepage to search.coupons-bar.com. Needless to say, that you should never make use of Coupons-Bar Startbar search engine to perform any kind of searches, because this way you would be redirected to various unreliable and even dangerous websites.
It is not hard to remove Coupons-Bar Startbar from your computer. First, you need to terminate the application via Control Panel, and then restore your browser settings by tweaking the settings manually.
How to remove Coupons-Bar Startbar
Windows 8
Slide mouse cursor to the bottom right of the screen.
Click Settings on Charm bar and go to Control Panel.
Open Uninstall a program and remove Coupons-Bar.
Windows Vista & Windows 7
Open Start menu and click Control Panel.
Go to Uninstall a program and remove Coupons-Bar.
Windows XP
Click Start menu button and navigate to Control Panel.
Select Add or remove programs and uninstall Coupons-Bar.
Change browser settings
Internet Explorer
Press Alt+X and go to Internet options.
Change your homepage address under General tab and click OK.
Press Alt+T and go to Manage add-ons.
Click Search providers on the left pane.
Set a new default search engine, remove Coupons-Bar Search and click Close.
Mozilla Firefox
Click the search engine icon on the left of search box (top right corner).
Select Manage search engines on drop-down menu.
Remove Coupons-Bar Search from the list and click OK.
Press Alt+T and click Options.
Change your homepage address under General tab and click OK.
Press Ctrl+Shift+A and Add-ons manager tab will open.
Disable and remove unwanted add-ons from Extensions and restart browser.
You may also follow the more thorough manual removal instructions below this description, in case Coupons-Bar Startbar does not seem to leave your PC no matter what. Do not hesitate to leave us a comment if you have any questions about how to remove Coupons-Bar Startbar.
In non-techie terms:
Coupons-Bar Startbar is a potentially unwanted application that modifies your browser settings and exposes you to corrupted content. You have to remove Coupons-Bar Startbar from your computer and then invest in a powerful antimalware tool to prevent similar infections in the future.