Do you know what Coupondo is?
Although Coupondo might look like a useful tool, our research team suggests removing it from your operating system as soon as possible. This adware (advertisement-supported software) is very suspicious, and you should realize that as soon as you find it bundled with unfamiliar software. Since this adware does not use an official download page, it is spread by third-party installers, and some of them could be malicious. Although this is not a reason to remove Coupondo, we have found a few important reasons to delete this ad-injecting tool from your operating system. If you wish to learn them, continue reading.
There is no doubt that Coupondo is associated with coupondo.ru. However, this website does not offer an installer. Moreover, this website does not provide any information regarding the services it provides, which is why we consider them untrustworthy. Of course, the shopping offers and discounts shown to you might seem great, but are they worth the risks you might encounter? Some of these offers might link to unreliable websites, and you might encounter security problems if you visit them. Needless to say, you have to use coupondo.ru with caution! When it comes to Coupondo itself, it can expose you to suspicious ads only if it is installed on your PC. As soon as you delete this adware from your operating system, you will not need to deal with any suspicious advertisements.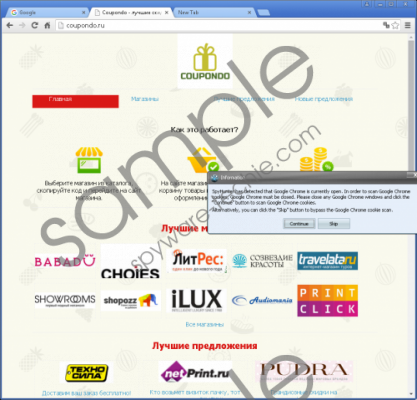 Coupondo screenshot
Scroll down for full removal instructions
Although, at the moment, Coupondo only works with Chrome and Firefox browsers, it is possible that this adware will inject advertisements into the websites opened using other browsers. Our research shows that this adware is not installed as a program in a conventional manner. Instead of being operated using a user interface, it is run with the help of files that hide under %LOCALAPPDATA%. If you successfully delete Coupondo files, the irritating ads will seize popping up. Unfortunately, ads might continue to flood if you install Coupondo bundled with other adware, potentially unwanted programs, or other threats that also deserve removal. Keep in mind that if you do not delete them, you will remain at risk.
If you lack experience with the removal of unreliable software, the removal of Coupondo might intimidate you. If you delete the files of this unreliable adware, you will eliminate it for good, and our instructions show how you can delete these files. Because other threats are likely to be active alongside, we suggest installing an authentic security tool right away. Even if you choose to delete Coupondo manually, we advise using software that could eliminate malware automatically.
Remove Coupondo from Windows
Simultaneously tap Win+E.
In the bar at the top enter %LOCALAPPDATA%.
Right-click the coupondo folder and select Delete.
N.B. If you cannot remove files, try terminating processes associated with them via the Task Manager first (Ctrl+Alt+Delete/Ctrl+Shift+Esc).
In non-techie terms:
Coupondo is an unreliable program, and you should delete it from your operating system as soon as you can. If this program was installed by accident, you might have no clue that it exists. However, the appearance of suspicious ads and shopping deals should help you realize that an ad-supported program might be active on your PC. We have also found that this adware usually is packaged with other programs that are likely to deserve removal as well. If you cannot delete Coupondo or the programs downloaded along with it manually, we suggest using automated malware removal software.