Do you know what CouponAmazing is?
CouponAmazing is a potentially unwanted application that manifests itself in a form of pop-up advertisements and various drop-down menus that contain discount offers and coupons. It is not a computer infection, and yet users are strongly recommended to remove CouponAmazing from your computer, as this plugin cannot be trusted 100% and it may be subjected to malware exploitation, consequently exposing your computer to malicious infections. It may have not been your intention to install this plugin your PC, so the sooner you get rid of CouponAmazing the better.
Taking into consideration CouponAmazing's behavior, this browser extension can be classified as adware. It can be installed on Mozilla Firefox, Google Chrome and Internet Explorer browsers. If you want to learn more about CouponAmazing, you can access their official website at couponamazing.com. There you will be told that CouponAmazing displays coupon deals for various goods, including apparel, electronics, furniture and so on. Naturally, if you are an avid online shopper, such functions may seem really useful. However, the fact that there are several spelling mistakes glaring back at you from the official website definitely makes one suspicious of this plugin.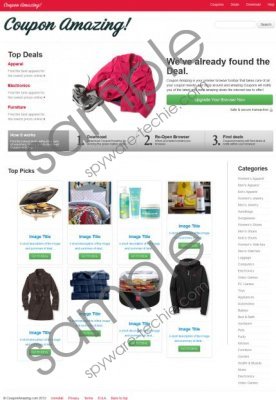 CouponAmazing screenshot
Scroll down for full removal instructions
What is more, since couponamazing.com is an official website, you should be able to download the plugin there. However, that is not possible at the moment. Even if you click the Upgrade Your Browser Now button, no download is initiated. And yet users still end up having CouponAmazing on their computers. That is so, because the plugin is being distributed together with shareware applications you encounter online at third party websites. The point is that more often than not, CouponAmazing is bundled with various applications you can download free of charge. Since a lot of users go through the installation process automatically, each time they install a freeware application, they simply miss the steps that inform them about additional software installation.
The problem with CouponAmazing is that this plugin may unintentionally compromise your overall system security. Its pop-ups could get hijacked by malicious third party and you would be directly exposed to potential threats. Hence, it is for the best to remove CouponAmazing from your computer and the sooner to you do it the better.
Manual CouponAmazing Removal
Windows 8
Move mouse cursor to the bottom right of the screen.
When Charms bar appears, click Settings and go to Control Panel.
Select Uninstall a program and remove CouponAmazing.
Windows Vista & Windows 7
Open Start menu and click Control Panel.
Go to Uninstall a program and remove CouponAmazing.
Windows XP
Open Start menu and go to Control Panel.
Select Add or remove programs and uninstall CouponAmazing.
Manual removal may not be enough to remove all the potentially dangerous files from your PC. Hence, you should scan your computer with SpyHunter free scanner and then invest in a powerful computer security tool to protect the system from various infections.
In non-techie terms:
CouponAmazing is a browser plugin that is supposed to help you save money on your purchases online, but it could be used as a vehicle for malware distribution, so you should remove CouponAmazing from your PC right now.
Aliases: Coupon Amazing.