Do you know what Coupon Navigator is?
Coupon Navigator is an adware program that will spam you with annoying commercial advertisements. These advertisements will appear in various shapes and forms, and they will not allow you to browse the web properly. Adware applications are often associated with a number of potential computer security issues. Hence, to be absolutely sure that your system is protected from various infections, it is important to remove even the most innocent-looking applications that could be exploited by cyber criminals. Coupon Navigator happens to be one of them, and you can find the manual removal instructions below this article.
Unlike many other adware applications that do not provide users with a direct download link, Coupon Navigator is somewhat different. You can download the application from couponnavigator.com. The official website for this program looks neat and user-friendly. It says that this application presents you with "hundreds of DAILY COUPONS from stores you love" straight on your desktop. The online stores supported by Coupon Navigator include Walmart, BestBuy, Kmart, Macy's, Target.com, Amazon, JCPenney, Kohl's, Sears, and so on. This might look like a pretty good deal, but you should not be so hasty as to install this program right away.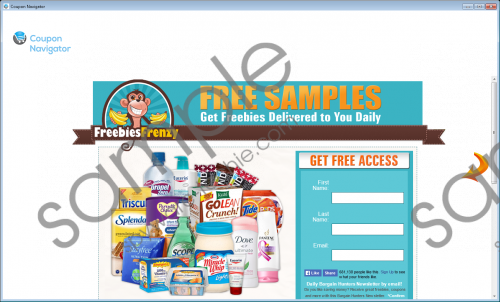 Coupon Navigator screenshot
Scroll down for full removal instructions
Even if you were to download the application from the main website, you would still have to face particular consequences. We say so because our tests have shown that the official installer for Coupon Navigator also brings a number of potentially unwanted programs to your computer, including Sweet-page.com, MyPcBackUp, Amigo, and many others. If that were not enough, Coupon Navigator may also enter your computer bundled with other freeware applications via third-party sources. If that is the case, then you clearly had no idea this application would be installed on your PC because you were too focused on some other program when you downloaded it from a file-sharing website.
On the other hand, when this adware application gets installed on your PC, you will definitely notice it because the program is rather explicit about what it does. For instance, it will interfere with your web browsing habits by displaying various commercial offers and random pop-ups. Coupon Navigator will also launch browser window pop-ups that will be full of third-party offers. You should not click any of the advertisements because there is no guarantee they will redirect you to reliable websites. If you think that the ads are related to your likes and preferences, and so you must click, that is only a marketing tactic employed by Coupon Navigator.
The program monitors your online activity via tracking cookies, and it finds out what websites you visit the most and what you usually search for. As a result, Coupon Navigator can provide you with relevant offers that should make you feel inclined to click the ads. Unfortunately, this adware program (and all the others for that matter) is very vulnerable, and malevolent third parties could easily take advantage of it for malware distribution.
Prevent that from happening by removing Coupon Navigator. Open your Control Panel and uninstall the application right now. If you need any assistance with adware removal, do not hesitate to contact us. Also, to protect your PC from similar threats, do consider investing in a legitimate antispyware tool.
How to Uninstall Coupon Navigator
Windows 10 & Windows 8.1
Right-click the Windows icon on the left corner of your taskbar.
Select Control Panel and go to Uninstall a program.
Highlight Coupon Navigator and click Uninstall.
Windows Vista & Windows 7
Open the Start menu and click Control Panel.
Go to Uninstall a program and remove Coupon Navigator.
Windows XP
Click the Start menu and navigate to Control Panel.
Select Add or remove programs and uninstall Coupon Navigator.
In non-techie terms:
Coupon Navigator is a potentially dangerous system security threat. This adware program could be used by cyber criminals to display corrupted links to malicious websites. You need to ignore all the annoying pop-ups that you see on your screen. Remove Coupon Navigator right now and then scan your computer with the SpyHunter free scanner to find out which other programs should be deleted as well. Please remember that, when it comes to malware, it never rains but it pours.