Do you know what Counter for Messenger is?
Were you introduced to Counter for Messenger? If you still have the option, do NOT install this Google Chrome extension. If you have installed it already, the recommendation is that you delete it as soon as possible. The add-on does not offer a beneficial service, which is why it is unlikely that users would install it willingly. According to the information that the creator of this strange extension has presented, it is meant to help you count and rank the friends you communicate with via Messenger. The add-on is meant to rank friends on a chart, as well as back up the messages. Does that seem like a useful service? It does not seem like it to our research team. So, are you interested in removing Counter for Messenger and learning more about this potentially unwanted program (PUP)? If you are, keep reading this report.
Google Chrome users can acquire the suspicious Counter for Messenger from the Chrome web store, at chrome.google.com/webstore/detail/counter-for-messenger/ldlagicdigidgnhniajpmoddkoakdoca. The "offered by" section on the page reveals that the origins of the PUP derive from aliangliang.top. The content on this website is represented in Chinese, and the content itself does not make much sense. Also, there are no links to privacy policies, license agreements, terms of use, and similar kinds of statements that normally support online services, extensions, and software. Needless to say, you are not introduced to such statements via the Chrome web store either. Is that reason enough to delete Counter for Messenger from your web browser? It certainly is considering that the lack of official information makes the extension completely unpredictable. You do not even know if it is safe for you to use this add-on, and that is why you should remove it without further hesitation.
Since Google Chrome users are unlikely to download Counter for Messenger themselves, it is most likely this potentially unwanted program is distributed via software bundles. What are software bundles? They are sort of collections of programs, extensions, and software that are installed simultaneously. In some cases, reliable parties bundle several services or programs together; however, for the most part, bundles are used by unreliable parties and malware distributors to spread unreliable and malicious threats. In some cases, legitimate programs are bundled with malware to trick users, which is why installing software is something users need to be cautious about. Obviously, if you have downloaded Counter for Messenger along with other programs, you must research them also. Install a legitimate malware scanner, and then perform a full system scan. If any malware that requires removal exists, you will be informed about it.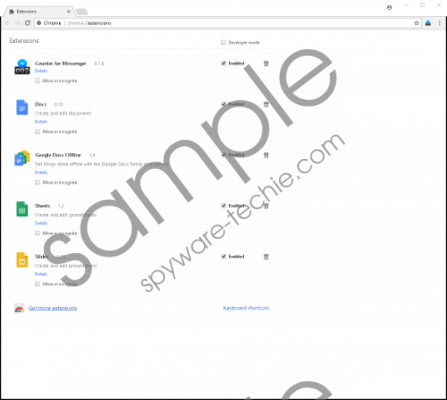 Counter for Messenger screenshot
Scroll down for full removal instructions
Do you agree with us that it is best to delete Counter for Messenger from your operating system? If you do, you need to figure out how you want to eliminate this extension. It is only natural if you are leaning towards removing this strange extension manually, but do not forget about other threats. If they exist, installing anti-malware software might be necessary. Remember that after this software automatically erases all threats, it can successfully keep your system and browsers protected against other threats. Needless to say, you can shoot two birds with one stone by installing this software.
Remove Counter for Messenger
Launch Google Chrome.
Simultaneously tap keys Alt+F.
Click More tools and then Extensions.
Click the recycle bin next to the unwanted extension.
Select Remove.
In non-techie terms:
Counter for Messenger does not seem like a great tool even if you are introduced to it via the Chrome web store, which appears to be the only somewhat reliable source representing this potentially unwanted program. Clearly, this extension is not very reliable or beneficial, and it is our recommendation that you delete it from your web browser as soon as possible. You can install anti-malware software to get rid of this PUP, and this, without a doubt, is the best option you have because you want the protection it can provide you with. If you choose to delete Counter for Messenger manually, do not forget that you will need to take care of your system's protection soon. If you forget about that, much more serious threats than potentially unwanted programs could invade your operating system and perform in a malicious manner. Remember that there are infections that can corrupt your files, leak personal information, and disable you from using your own computer.