Do you know what Coprofit is?
If you have noticed annoying coupons and third-party ads while shopping online, there is a chance that Coprofit has infected your computer. Although, according to our researchers, this adware program mainly targets Russian computers, since it may be distributed in software bundles, it is possible that you can download it from unreliable file-sharing websites. Unfortunately, the presence of this adware will not be profitable to you. As a matter of fact, only its creators can profit from its operations. If these creators happen to be criminals fishing for easy money by tricking you into clicking on their potentially unreliable and harmful ads, with every click you actually support these criminals and their activities. Although many users do not even consider adware applications as a threat, we are here to tell you that if you keep this infection on board, sooner or later you will realize the unfortunate consequences. Our researchers say that you should remove Coprofit if you do not want to make your operating system more vulnerable than it already is.
There is a website (coprofit.ru) on the Internet that seems to promote this adware and discounts for a number websites, but research shows that you cannot even download this tool from this site, not to mention that even the site is not what it claims to be. But since you cannot infect your computer with this useless adware from this site, there has to be another way for it to travel. It is not a secret that most of the time adware infections use free software bundles to crawl onto unsuspecting users' computers. The problem is that these packages are often filled with a number of malicious software installers; therefore, if you find one on your computer, there is a good chance that there are some more threats endangering the integrity of your system. Therefore, the best you can do when in doubt is to delete Coprofit and scan your operating system with a decent malware scanner. This tool can be a free online scanner as long as you can trust its report.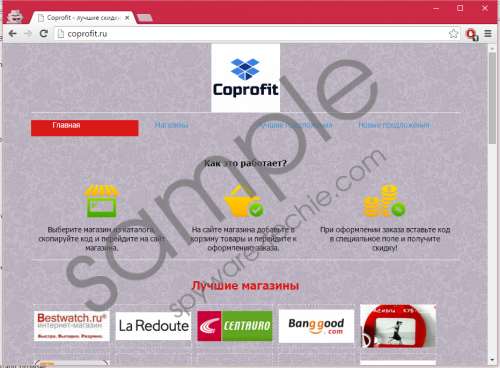 Coprofit screenshot
Scroll down for full removal instructions
According to our researchers, this is not a unique adware program, and most definitely it is not the "sliced bread" of ad-supported applications. In fact, they have found that Coprofit is identical to ForYouGain, SkidkiForYou, and more. Once this adware activates, it makes sure that it starts up automatically with Windows. This means that every time you restart your computer, this adware will be actively working in the background. It also installs extensions to your browsers through which it can display third-party commercials. Furthermore, it installs an executable file into Programfiles directory as well.
Instead of useful and profitable coupons, this adware seems to do the good old trick of showing you only affiliated third-parties' ads in order to generate traffic to their sites. However, you can never be sure where you might end up if you click on them. This adware may also collect information about you and send relevant, targeted ads to your screen. How could you resist a pop-up ad offering you the best discount on a product you actually dream about to have? Do you see now why these ads may be even more dangerous than irrelevant ones? But, if you click, you might get scammed by some cyber criminals, which never ends well for the user. If you want to avoid these potentially harmful ads, you should not hesitate to remove Coprofit.
What's more, with this adware present on your computer, you will never be safe to click on any advertisement for that matter. Since it autostarts with the operating system, it will be running all the time; therefore, it might hijack legitimate third-party ads and even if you think you click on a totally safe ad, you might be redirected to malicious sites. That is why if there is an adware application on your computer, you need to make sure it does not stay.
It is time to eliminate this annoying threat from your PC. The good news is that it has a working uninstaller that takes care of all its components. All you need to do is find it in Control Panel and activate it. If you are unfamiliar with uninstalling applications, please follow our guide below. In order to protect your computer and your privacy from similar or more dangerous malware attacks, it would be best to install a decent malware removal program unless you want to try to manually remove them every time.
Coprofit Removal from Windows
Windows 8, Windows 8.1, and Windows 10
Press Win+Q and type in Uninstall a program.
Select the program and click Uninstall.
Windows Vista and Windows 7
Access the Start menu and open Control Panel.
Pick Uninstall a program.
Select the program and press Uninstall.
Windows XP
Press the Start button and choose Control Panel.
Open Add or Remove Programs.
Select the application and click Remove.
In non-techie terms:
Coprofit is a Russian adware program that claims to offer you discount coupons on shopping sites, but, unfortunately, it may cause system security issues if you are not careful. This adware may show you unreliable third-party ads, and if you click on them, you may be redirected to malicious websites. In order to keep your computer protected, we recommend that you remove Coprofit right now. Since this malware infection may have arrived in a bundle together with other malware programs, you need to make sure that all potential threats get removed from your PC; otherwise, you will not be totally safe. We suggest that you use a trustworthy antimalware application to detect and eliminate all security-related issues and safeguard your computer from future attacks.