Do you know what Copa Ransomware is?
Copa Ransomware is one of the many programs from the STOP Ransomware family that have been terrorizing users across different continents for a while now. As you can clearly tell from its name, Copa Ransomware is a ransomware infection, and as such, it holds your files hostage, saying that you have to pay a ransom in order to get them back. Please note that paying the money may not ensure your file recovery. It would be better to focus on removing this infection from your system and securing it against similar intruders in the future.
Since Copa Ransomware isn't a new player in the field, we could probably tell that this infection follows the same patterns as Kuus Ransowmare, Maas Ransowmare, Opqz Ransomware, and several other programs from the same STOP Ransomware family. It is very likely that all these programs are based on the same general code, and then they are slightly tweaked to look different. However, even their ransom note contents are practically the same, so it's obvious that the infections are related.
There are some good things related to that, as well. There is a public decryption tool created for the STOP Ransowmare infection. It works on the files that were encrypted with the offline encryption key. Of course, not all files will be encrypted with the offline key, and so the public decryption tool won't work on everything. For that reason, you have to be ready to deal with this situation. The truth is that the best remedy against a ransomware infection is a file backup.
A file backup is a type of file storage where you keep copies of your files. It could be an external hard drive or a cloud storage drive. Maybe you keep most of your latest files on your mobile device? Whichever it might be, making copies is a good idea because you can never know when something like Copa Ransomware could enter your system.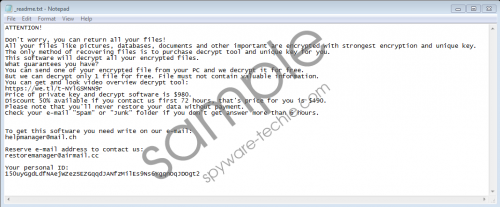 Copa Ransomware screenshot
Scroll down for full removal instructions
At the same time, it's actually a lot easier to avoid ransomware than you might think. Ransomware often comes through spam email attachments. Those attachments look like regular documents you deal with every single day. However, if the message is random or unexpected, you shouldn't hurry to open the attachment the moment you receive it. Double-check with the sender, and if you don't know the sender in the first place, you clearly need to delete the email on the spot.
However, if users fail to delete the malicious email and they open the attached file, through that file, Copa Ransomware (and other ransomware infections) gets installed on their computer. When the infection is there, it quickly launches the encryption process, and soon, all of your personal files get locked. You will see that it is easy to notice affected files because their icons will change to blank pages. If that weren't enough, Copa Ransomware will also drop a ransom note that tells you about file decryption. Here's an extract from the said note:
Don't worry, you can return all your files!
All your files like pictures, databases, documents and other important are encrypted with strongest encryption and unique key.
The only method of recovering files is to purchase decrypt tool and unique key for you.
<…>
Price of private key and decrypt software is $980.
Discount 50% available if you contact us first 72 hours, that's price for you is $490.
Once again, we would like to emphasize that paying the ransom doesn't guarantee that the criminals would issue the decryption key. What's more, paying the ransom would encourage the people behind to create more infections and spread them around.
Thus, you can contribute to slowing down this pandemic by removing Copa Ransomware from your system, and refraining from paying the ransom. Removing Copa Ransomware is not that complicated, but if you don't want to do it on your own, please invest in a powerful security application that will help you terminate the infection automatically. At the same time, you will be able to remove other potential threats that could be present in your system. Take all the steps that are necessary to protect your system and your personal information from malicious exploitation.
How to Remove Copa Ransomware
Remove the latest files from Desktop.
Remove the latest files from the Downloads folder.
Press Win+R and enter %TEMP%. Press OK.
Delete the latest files from the directory.
Press Win+R and type %LOCALAPPADATA%. Press OK.
Delete the folder with a long random name.
Use SpyHunter to scan your computer.
In non-techie terms:
Copa Ransomware is a malicious program that will not let you access your files. It was created to generate financial profit for its developers, and so, it will try to push you into paying the ransom. Don't pay anything, and remove Copa Ransomware right now. If you need help, don't hesitate to leave a comment. Our team is always ready to assist you. But don't forget that you also have to invest in cybersecurity and learn more about impending threats, if you want to avoid such infections in the future.