Do you know what Cooliosearch.com is?
Cooliosearch.com is a browser hijacker, but only if it enters your browsers without permission. This strange browser hijacker affects only the New Tab on all popular browsers (IE, Chrome, and Firefox), but it is unlikely to affect the homepage or default search provider tools. Of course, if it does, you have more reasons to delete this suspicious hijacker. Do you know why you need to remove Cooliosearch.com? First of all, this unreliable program might attack your browsers illegally, and that is all the reason you need to get rid of this hijacker. Now, if you have installed this search tool willingly, you might need other arguments to delete this strange piece of software. Continue reading to find these arguments.
Have you analyzed the Privacy Policy associated with Cooliosearch.com? If you have, you might have noticed that this search tool is represented by IMALI - N.I. MEDIA LTD, the same company that has revealed Search.emaildefendsearch.com and Search.realcoolmoviessearch.com hijackers. We have tested these hijackers in the past, and we found that they are activated by browser extensions. Although we could not link any specific browser to Cooliosearch.com, it is highly likely that you will need to remove extensions if you encounter this hijacker. Was your new tab been replaced by a different suspicious search provider, Thecoolestmoviesearch.com? This is just a different version of the same hijacker, and, needless to say, it requires removal as well.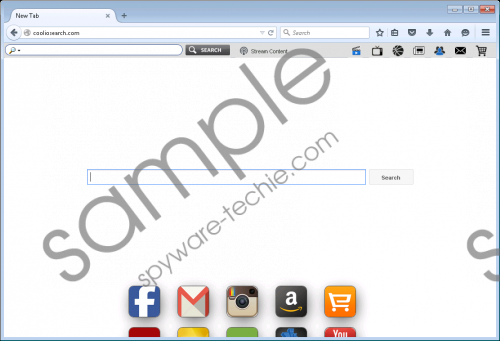 Cooliosearch.com screenshot
Scroll down for full removal instructions
The suspicious Cooliosearch.com serves in two ways. First of all, it presents a search box, but if you use it, you will be redirected to plusnetwork.com. This search provider is considered unreliable because it presents sponsored links that are not only useless for your web search, but also can expose you to malicious content. Cooliosearch.com also provides links to popular sites that are placed under such categories as Stream Content, Movies, TV, Sports, and News. Although this service is harmless, you should consider removing Cooliosearch.com because it redirects to an unreliable third-party website and because it can collect information about you. Are you ready to delete this hijacker?
Since Cooliosearch.com might run with the help of browser extensions, and it might come bundled with third-party infections, the removal operation is truly unpredictable. If you reset the browsers, the unwanted search tools will be eliminated, along with browser extensions. Afterward, you can implement an automated remover to delete remaining Windows infections. As for further protection, you do not need to worry about it if you install antimalware software; however, if you choose the manual removal path, you have to figure out a way to protect Windows. We suggest installing a reliable security tool.
Remove Cooliosearch.com from browsers
Remove from Internet Explorer
Launch IE and tap Alt+T.
Select Internet options.
Click the Advanced tab on the right.
Click Reset, confirm, and restart IE.
Remove from Mozilla Firefox
Launch Firefox and tap Alt+H.
Click Troubleshooting Information.
Move to give Firefox a tune up (on the right).
Click Refresh Firefox, confirm, and restart Firefox.
Remove from Google Chrome
Launch Chrome and tap Alt+F.
Click Show advanced settings (at the bottom of the menu).
Click Reset settings (at the bottom of the menu).
Confirm your choice and restart Chrome.
In non-techie terms:
Whether or not it was installed illegally, you should remove Cooliosearch.com because it does not provide reliable search services. The manual removal guide above will assist you at resetting your web browsers, but we strongly recommend using automated malware removal software to eliminate Cooliosearch.com-related malware. The instructions below explain how to install this software in those situations where a regular download-install method does not work.