Do you know what Coolersearch.com is?
Coolersearch.com is not an application that should be active on your operating system. This is so because malware researchers at Spyware-Techie.com have categorized this intrusive piece of software as an invasive search engine that was developed by a questionable group known as IMALI - N.I. MEDIA LTD. Due to its invasive nature, the search engine in question is capable of turning your overall online experience into a miserable one, to say the least. In this article, we further discuss the functionality of this suspicious application and expose the potentially dangerous and malicious features of it. Make sure to read the rest of this report to understand why the removal of Coolersearch.com must be executed as soon as this search engine is found active on your operating system. Besides such information, we provide a detailed removal guide that will help you completely delete Coolersearch.com.
Firstly, it is important to note that Coolersearch.com is fully compatible with web browsers such as Mozilla Firefox and Google Chrome. This does not only signify that nearly every Internet users it at risk, but that the dubious program mostly resides within files and folder of these browsers; it does not rely as much on the registry system as a lot of other search engines that are compatible with Internet Explorer. Thus, if you have noticed that your default search engine has been altered without any warning, we highly advise you to check for any questionable files or folders within the %APPDATA% directory. Any suspicious or dubious file is a strong indication that the search engine in question is operating on your PC. The intrusive browser add-on might also modify already existing files that are a part of your web browser. In such a case a non-advanced user might not be capable of identifying questionable data within the original files.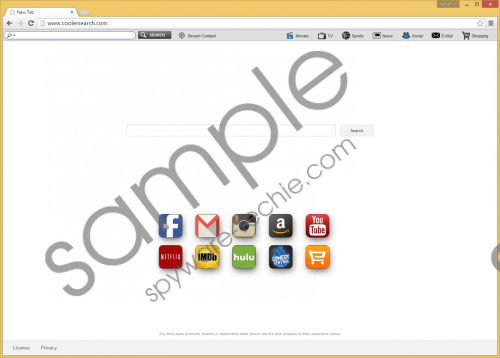 Coolersearch.com screenshot
Scroll down for full removal instructions
All these changes are made for one purpose only – to alter your search engine; thus, the developers of it could present you with modified third-party sponsored results. Unfortunately, there is something much more dangerous about running Coolersearch.com on your PC. One such suspicious feature is that your every search query is tracked, and all that information could be shared with suspicious third-parties. What is even more alarming is that at times this search engine could be used as a gateway into your PC. This is so because the search engine in question might initiate silent connections to dubious third-party servers, meaning that without your knowledge or authorization this malicious piece of software could trigger a download of some unwanted or even potentially dangerous application. It is obvious that having this search engine operating on your PC could have rather devastating outcomes to say the least. Make sure to delete Coolersearch.com if you ever find it up and running on your operating system as it serves no good reason and only puts your whole operating system in danger to say the least.
Follow the removal guide that has been crafted by our malware experts in order to completely delete Coolersearch.com. This is imperative since at times search engines like this once could have a hidden update tool, meaning that they could be restored without any notification. Thus, you should double check your %APPDATA% folder and registry keys associated with the affected web browser to be absolutely sure that Coolersearch.com was removed entirely. If you have any problems executing the manual removal, feel free to contact us.
How to remove Coolersearch.com from your PC
Internet Explorer
and tap Alt+T.
Select Internet Options and open the Advanced tab.
Click Reset.
Mark Delete personal settings and then click Reset again.
Mozilla Firefox
Launch your browser and tap Alt+H.
Select Troubleshooting information and click Reset Firefox.
Click the Reset Firefox button again to confirm the process.
Google Chrome
Launch your browser and tap Alt+F.
Select Settings.
Scroll down and then click Show advanced settings.
Click Reset browser settings.
Click the Reset button.
In non-techie terms:
Some users might find the manual removal too complicated. If you are one of those users you should not worry. Our malware researchers provide an alternative removal guide that will help you delete Coolersearch.com in an automatic way.