Do you know what ConvertPDFsNow Toolbar is?
ConvertPDFsNow Toolbar is a piece of software that promises to enable users to convert PDF files with ease. According to the information available on its official website convertpdfsnow.com, users could convert PDF files from and to DOC, DOCX, PPTX, and TXT file formats after installing this toolbar. On top of that, they could translate texts and get dictionary definitions too. It is not at all surprising that some users install this browser plugin willingly after reading the software description, but, actually, we have to warn those users who believe that they have installed a perfect application on their PCs that ConvertPDFsNow Toolbar is not as decent as it might seem to be at first glance. First of all, it does not work as a PDF converter even though it is advertised as one. Instead, it provides links redirecting to third-party websites which act as online converters. Also, users make complaints that their browsers' settings have been changed after the installation of ConvertPDFsNow Toolbar on their computers. These changes can be undone only by deleting the browser plugin from the computer. Go to erase it without hesitation if you see more drawbacks than benefits related to it because it is not a program you could not live without.
ConvertPDFsNow Toolbar is not the first product of Mindspark Interactive Network, Inc. There are a number of similar browser plugins that promise to work beneficially but are classified as potentially unwanted programs. They all tend to change the homepage and the New Tab URL on browsers after the installation. It is not a malicious activity itself; however, the search tool search.myway.com these Mindspark toolbars promote is not fully reliable. Therefore, if you see it when you open your browsers too after the installation of ConvertPDFsNow Toolbar, you should go to get rid of a browser plugin to remove it. Specialists say that it might be quite risky to use the search tool promoted by ConvertPDFsNow Toolbar as a default search engine every day due to untrustworthy advertisements it might display for users. They are harmless if users do not click on them, but they might take to websites the developer of this software has no control of if they are clicked on. This means that users who use search.myway.com as a default search engine risk encountering dangers lying on these websites. Setting an untrustworthy search tool is one of the main reasons why ConvertPDFsNow Toolbar has been categorized as a potentially unwanted program.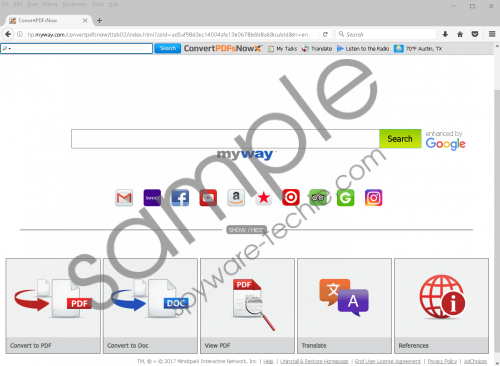 ConvertPDFsNow Toolbar screenshot
Scroll down for full removal instructions
Even though ConvertPDFsNow Toolbar allows users to listen to online radio, check the local weather forecast, create a list of important tasks, translate texts, and convert files with the click of a button, it still cannot be called a 100% trustworthy application also because it might be distributed using the bundling method, which is considered one of the unfair methods of software distribution. This means that its official website (http://www.ConvertPDFsNow.com/index.jhtml) and the Chrome Web Store (https://chrome.google.com/webstore/detail/convertpdfsnow/iljadagannneobniklcocaonbnocinlk) are not the only places it can be downloaded from. Users who cannot remember downloading and installing this toolbar willingly have, probably, installed a software bundle from a third-party website. This usually happens when users go to download free software from P2P and similar websites. ConvertPDFsNow Toolbar and similar applications are presented as additional offers in these bundles, so users have a right to dismiss them. Sadly, only few users notice that additional software is going to be installed too and take action. If you do not consider yourself an attentive person as well, or you do not have much experience with suspicious software, you should invest in a reputable security application – it will be your system guard.
Users who do not find ConvertPDFsNow Toolbar useful at all, or simply discover it installed without their direct permission, should go to delete this browser plugin without consideration. An automatic tool can be used to make it gone, or users can erase it manually. The latter removal method is much more complicated, so our specialists suggest consulting their removal instructions (see below).
How to remove ConvertPDFsNow Toolbar manually
Google Chrome
Tap Win+E.
Open %LOCALAPPDATA%\Google\Chrome\User Data\[PROFILE]\Extensions, %LOCALAPPDATA%\Google\Chrome\User Data\[PROFILE]\Local Extension Settings, and %LOCALAPPDATA%\Google\Chrome\User Data\[PROFILE]\Sync Extension Settings.
Delete the folder iljadagannneobniklcocaonbnocinlk.
Mozilla Firefox
Tap Win+E.
Go to %APPDATA%\Mozilla\Firefox\Profiles\[PROFILE]\extensions.
Delete _hnMembers_@free.ConvertPDFsNow.com.
Internet Explorer
Open Control Panel (Press Win+R, type Control Panel in the empty box, and click OK).
Select Add or Remove Programs if you use Windows XP or Uninstall a program if you use Windows 7, 8, 8.1, or Windows 10.
Right-click on the application that you wish to remove.
Click Remove or Uninstall, depending on the version of Windows running on your PC.
In non-techie terms:
In some cases, other untrustworthy applications come in software bundles with ConvertPDFsNow Toolbar as well, so your PC might still not be clean even though you have already gotten rid of this browser plugin categorized as a potentially unwanted program. You do not need to find and erase those remaining threats manually – an automatic malware remover, e.g. SpyHunter can do this for you in a trice.