Do you know what ConvertItSearch is?
ConvertItSearch is your regular potentially unwanted program that is very similar to multiple other extensions we have encountered before. These extensions come forth saying they can provide you with some useful function, but in reality, they could expose you to dangerous content. To avoid that, it would be for the best to remove ConvertItSearch for good. You can employ the manual removal instructions that we have prepared at the bottom of this description. It would also be a good idea to employ a reliable antispyware tool to scan your computer.
Just like it is with most of the other extensions from the "Converters" group, we can encounter the app at its official homepage and the Chrome Web Store. Getting the app from its official website would mean that you are aware of the fact you are adding a new extension to your browser. Also, you can get the main information about the app on those sites, too. However, we believe that most of the users who read this description have added ConvertItSearch to their browsers accidentally, and we should discuss how that happens, too.
Needless to say, when users add this extension accidentally, it usually happens through third-party sources. Such extensions can be distributed via pop-ups that you encounter on pages that distribute freeware or provide free content. For instance, it could be an online gaming website or some video streaming page that display a lot of commercial ads. Sometimes you don't even need to click the ad directly to get a pop-up. Clicking anywhere on the site will launch a pop-up that will offer ConvertItSearch.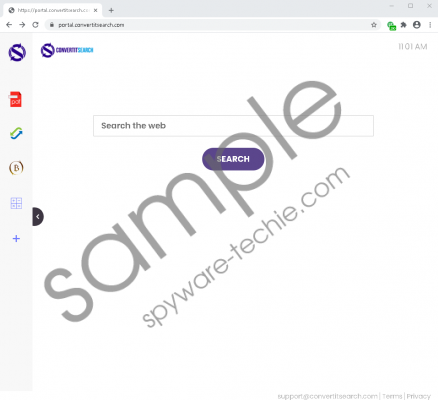 ConvertItSearch screenshot
Scroll down for full removal instructions
Most of the time, it is possible to close the pop-up by clicking the top right close button on the window, but users get confused. In their haste to close the window, they might click the boldest button they see, and that is the Add to Chrome button, which brings ConvertItSearch to their system. What's more, even if users are not aware of that, by clicking the button and adding the extension, they also agree to the modifications that this app performs. Usually, these extensions change the new tab settings and the default search engine. The extension also starts reading your browsing history. The official stance is that it allows the extension generate custom content for you. However, there are certain risks behind it that shouldn't be ignored.
Just as it says that it generates custom content, you have to remember that ConvertItSearch does not review the content that waits for you once you click the promoted links. You will get exposed to those links through modified search results. On top of that, ConvertItSearch doesn't even provide you with an original search provider. The extension makes use of the Yahoo! Search engine, displaying search results trimmed based on your likes and preferences.
The good news is that this kind of practice isn't malicious, and there's no need to report ConvertItSearch to your local cybersecurity watchdog. However, such practices do not protect you from potential threats because the application could be easily exploited by malevolent third parties. This kind of scenario is very unlikely, but it is necessary to take all the potential threats into account when you consider your cybersecurity. Not to mention that there's no need to keep an application that you didn't plan to have. Therefore, we would strongly recommend removing ConvertItSearch from your computer right now.
If you follow the manual removal instructions below, you will be able to remove ConvertItSearch by resetting your browser to default. You can also remove the app through the browser's menu, but the full reset also deletes tracking cookies and other potentially unwanted applications that might have entered your system.
It might not be enough to terminate everything, though. You should still consider scanning your computer with a legitimate antispyware tool because there could be programs running in the background. And if those programs are dangerous, make sure to remove them automatically.
Aside from investing in a legitimate security tool, you should also change your browsing habits. The websites you visit may be partly responsible for redirecting you to annoying pop-ups, so be sure to review what you could change about that.
How to Remove ConvertItSearch
Open Chrome and press Alt+F.
Click Settings on the drop-down menu.
Select Advanced at the bottom of the page.
Click Restore settings to their original defaults.
Click Reset settings.
In non-techie terms:
ConvertItSearch is an annoying browser extension that shouldn't be there. If you don't remember adding this app, you most definitely need to remove it. While removing unwanted programs isn't a complicated process, you will get most of them if you employ an automated software removal tool. Do yourself a favor, and get a powerful antispyware application that will help you delete all the potential threats at once.