Do you know what ConverterSearchHd is?
ConverterSearchHd is not a malicious computer infection, but some users might think that this app is a browser hijacker because it modifies the default search provider on your Chrome browser. That was a mouthful, but the point is that this app doesn't do that without your permission. If you don't remember ever giving such permission, the chances are this app reached your computer accidentally. Hence, now's a good time scan your computer and see how many unwanted apps you have. As for ConverterSearchHd, you can remove it without too much difficulty by following the manual removal instructions at the bottom.
If you think you've heard this name somewhere before, you're not wrong. ConverterSearchHd is clearly a direct clone of ConverterSearchNow, TheConverterSearch, AllConvertersSearches, and several other Chrome extensions that we have already discussed on our site. The point is that they are really easy to develop and release, and that's why we have been seeing an increase of these apps for a while now. They might also have a rather short lifespan, but that's why there's so many of them.
These extensions come forth with the promise to improve or enhance your browsing and web searching experience. ConverterSearchHd is also promoted as a "single purpose extension," and this should convince you that you can do a lot of things with it. However, you might also be saying that you don't remember adding the extension, and that would be true, too.
Things like ConverterSearchHd have many ways to reach you. It's true that all those applications have official homepages, and they can also be found on the Chrome Web Store (unless the pages get removed). But the point is that they are available out in the open, and even if they reach you through third-party sources, you still get the notification that informs you about the oncoming modifications.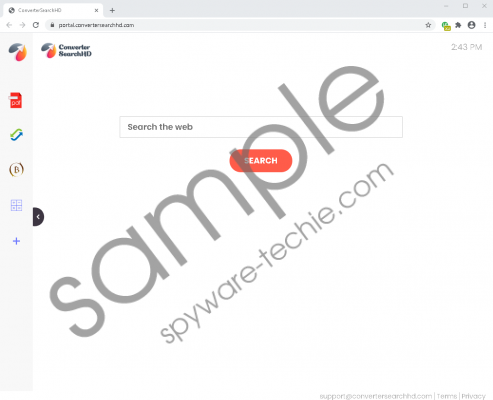 ConverterSearchHd screenshot
Scroll down for full removal instructions
To avoid this extension, you should refrain from visiting websites that offer free content. It could be gaming pages, video streaming sties, and other domains that are often full of third-party content and display third-party advertisements. It is through those third-party advertisements that the likes of ConverterSearchHd reach you. While it is possible to decline adding the extension, users often fail to do so because they are too distracting with the task at hand (watching a video or playing a game). As a result, extensions get added to your browser accidentally.
Nevertheless, the extension doesn't "know" it's unwanted. If it is added, it gets the signal that it was authorized to modify your browser's settings, and ConverterSearchHd starts collecting information on your web browsing habits to, later on, generate custom commercial content. The custom commercial content will be delivered through the modified search result links. Although ConverterSearchHd sounds like it can offer you an authentic search service, the reality is that the extension employs Yahoo! Search to provide you with the said service. What's more, some of the search results might be modified based on the information collected about your browsing history.
For the most part, this kind of modification is custom, and it should help you find something you want or need faster. However, that is not exactly secure. ConverterSearchHd and other similar applications cannot guarantee that the third-party content you encounter through their links will be 100% safe. These extensions are not that powerful to review every single outgoing link they promote. Hence, there is always a chance that the advertising space offered by ConverterSearchHd can be exploited by someone malicious. And if you're not careful, you could end up getting infected with malware, too.
While malware infection is a very unlikely scenario, you have to consider that risk, too. Hence, the sooner you remove ConverterSearchHd from your system, the better. If you didn't want to have the extension in the first place, it should be obvious that you have to remove it.
You can delete it through the Extensions' menu, or you can simply reset your browser to default. It's up to you, which removal method you want to apply. After manual removal, don't forget to scan your computer with the SpyHunter free scanner, as you are bound to have more unwanted apps that could be running in the background.
How to Delete ConverterSearchHd
Launch Chrome.
Press Alt+F and click Settings.
Scroll down and click Advanced.
Press Restore settings to their original defaults.
Click Reset settings.
In non-techie terms:
ConverterSearchHd offers to improve your browsing experience. If you don't recognize this app, you can remove ConverterSearchHd from your browser today. It is easy to add such extensions to your browser without meaning to. Hence, you look through the list of extensions that you have, and make sure you don't have something unwanted. For the full security coverage, do not hesitate to invest in a legitimate security application.