Do you know what Converters Now Toolbar is?
Converters Now Toolbar is a new browser plugin developed by Mindspark Interactive Network, Inc. This company has already developed a number of suspicious browser plugins, and, unfortunately, our specialists could not found a single one which would be fully trustworthy. All of them are known to be potentially unwanted applications because they perform specific activities that make them untrustworthy software. Potentially unwanted programs are not as harmful as malicious applications, of course, so they do not act harshly. In the case of Converters Now Toolbar, it only changes users' web browsers settings upon installation and might start gathering information about users. Also, its search tool might present users with untrustworthy search results. Finally, many people claim that Converters Now Toolbar is not a very beneficial application. You should read this article till the end – we are sure you will have your personal opinion about this potentially unwanted application after finding more about it and activities it is going to perform on your computer if you let it stay installed. If you make a decision to delete it, get rid of it as soon as possible, especially if you have not found it useful or it has slithered illegally onto your computer.
A lot of users install Converters Now Toolbar expecting that they could view PDF files easier and search the web more efficiently, as promised on the official website of this Mindspark toolbar (http://www.convertersnow.com/index.jhtml). Unfortunately, they realize quickly that this program is surely not as useful as it claims to be. Generally speaking, the only activity it performs is setting a new page on browsers in the place of a default homepage and the New Tab page. This website contains a search box on its start page, a bar with buttons opening a third-party website allowing users to edit and convert PDF documents online below, and, finally, there are several quick-access buttons placed at the top of the page. They open such popular websites as britannica.com, dictionary.com, and thesaurus.com. Frankly speaking, it is the only thing Converters Now Toolbar does on users' computers. Of course, some of them find this program quite useful because they can access certain third-party pages easily and they do not need to open a new tab with a search tool to perform web searches. Unfortunately, these users do not know that the use of the MyWay search tool located on the main page set by Converters Now Toolbar might result in the emergence of a bunch of problems. It will not start downloading malware on a user's PC automatically or doing other activities considered malevolent, but it might present them with the sponsored search results which might redirect to untrustworthy third-party pages.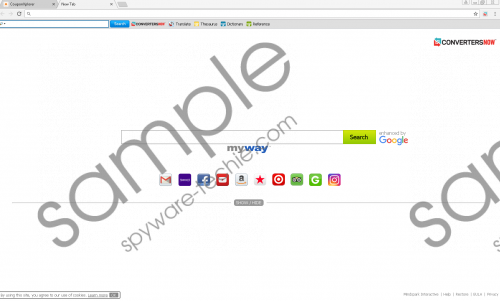 Converters Now Toolbar screenshot
Scroll down for full removal instructions
There is one more reason Converters Now Toolbar has been classified as a potentially unwanted program. Our research team has carried out research recently to find more about this piece of software and they have discovered that the official website of this Mindspark toolbar (http://www.convertersnow.com/index.jhtml) is not the only place it can be downloaded from. According to them, there is no doubt that users who find this piece of software installed on their PCs without permission have downloaded a malicious software bundle from the web recently. Potentially unwanted applications rarely travel all alone, so we recommend scanning the system against other untrustworthy programs too after getting rid of Converters Now Toolbar.
Are you an Internet Explorer user? If so, you are lucky because you could delete Converters Now Toolbar using Control Panel. You will definitely not find this process hard if it is not the first time you erase software from your computer. Unfortunately, it will be slightly more difficult to remove this Mindspark toolbar from Mozilla Firefox and Google Chrome browsers – you will need to open the Add-ons Manager and delete these extensions from there. Our instructions, which are located below this article, will make this process easier.
Delete Converters Now Toolbar
Internet Explorer
Windows 7/Vista/8/8.1/10
Tap Win+R.
Enter Control Panel and press Enter.
Open Uninstall a program.
Right-click on Converters Now Toolbar.
Click Uninstall.
Windows XP
Click Start.
Open Control Panel.
Click Add or Remove Programs and select the undesirable software.
Click on the Remove button.
Mozilla Firefox
Launch Mozilla Firefox.
Press Ctrl+Shift+A simultaneously to open the Extensions menu.
Click on the extension you wish to erase.
Click Remove.
Google Chrome
Open Google Chrome and tap Alt+F.
Click More tools and then click Extensions.
Select Converters Now Toolbar and click on the Trash button.
Click Remove.
In non-techie terms:
If you encounter a new Mindspark Interactive Network, Inc. product soon, you should be very careful with it, especially if it is promoted as a useful plugin, because it is very likely that it is untrustworthy and might cause you problems. In the worst-case scenario, both privacy and security-related problems will arise, so security specialists recommend being extremely cautious with those new programs and delete them immediately. Also, it is highly recommended to have reputable security software enabled on the system.