Do you know what Converter Suite is?
You might think that Converter Suite is a trustworthy and useful extension, but our research team does not agree. Instead, we identify it as a potentially unwanted program (PUP), and we have found that it is not as useful as some people might consider it to be. The creator of this PUP is Innover Group, and it is a known PUP creator because it is responsible for Ezy Photo Tab, Shield My Searches, and other suspicious extensions. If you have decided that you want to remove Converter Suite already, we have created a guide that will help you take care of the unwanted extension in no time. However, if you are not yet sure what you want to do about the extension or if you want to delete it at all, you can continue reading to learn more.
We cannot know where you acquired Converter Suite from, but it is possible that you discovered the extension via its official website (convertersuite.com) or the Chrome Web Store (chrome.google.com/webstore/detail/converter-suite/hjlopiihmpomlfgifjmoipmnaloobipg). In fact, the official downloader redirects to the Chrome Web Store installer. At the time of research, over 30,000 users had installed this extension. Some of them might have been introduced to the installer in a strange way, for example, via a strange or even aggressive pop-up that might have shown up on some suspicious website. Obviously, if you believe that you were forced to install Converter Suite, or if you do not know where it came from at all, you should delete it without hesitation. Furthermore, you should also scan your operating system to see what other threats might have managed to enter your operating system without your permission. Hopefully, no threats exist, but if they are found, you must remove them ASAP.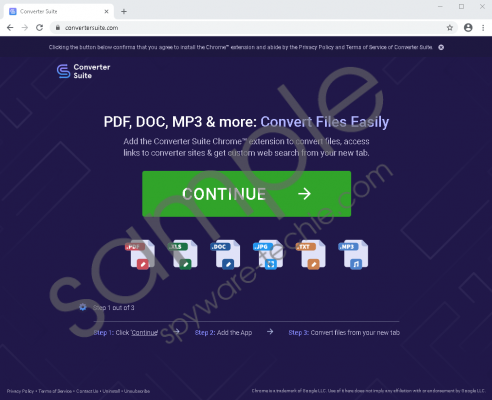 Converter Suite screenshot
Scroll down for full removal instructions
Undoubtedly, a lot of users are likely to download Converter Suite willingly because it sounds pretty great. The official description suggests that this extension can convert documents to the PDF format and offer links to websites that offer file conversion services. Furthermore, it is meant to provide users with a "custom web search." On top of all that, it claims to be capable of sharing files via text, email, link, or cloud. One part that users are likely to dismiss is the permissions. Converter Suite can replace your New Tab page, read browsing history, change your data on certain websites, and also find frequently visited websites. Another thing that users are likely to dismiss is the Privacy Policy at convertersuite.com/common/privacypolicy.html. According to this document, the PUP can record all sorts of information using cookies. Also, it can "share advertising and promotional content either directly or through a third-party service." The last thing that is likely to concern people is that the PUP can redirect to Yahoo Search. As always, we do not recommend trusting search tools that redirect to well-known search engines.
So, which of the discussed reasons is the one you choose to delete Converter Suite for? Whichever one it is, you should be able to remove the undesirable extension using the manual removal guide below. It shows how to get rid of extensions and how to clear browsing data, so that you could eliminate data-tracking cookies that are used by the PUP. If you discover that other threats exist on your system, perhaps manual removal is not the ideal option. We advise looking into using anti-malware software that can automatically detect and remove threats, and also secure the system to keep all kinds of threats away.
Remove Converter Suite from Google Chrome
Open the browser and then open the Chrome menu by tapping Alt+F keys.
Click More tools and then select Extensions to find all installed extensions.
Click the Remove button next to the potentially unwanted program.
Open the Clear browsing data menu by tapping Ctrl+Shift+Delete keys.
Go to the Advanced menu, choose a time range and boxes, and click Clear data.
In non-techie terms:
Converter Suite might offer a file converter and links to websites that offer file conversion services, but you need to understand every function of this extension before you decide if you want to use it. Needless to say, if you do not want your converter to collect your browsing data, show advertisements, and redirect to Yahoo Search, you might want to delete Converter Suite. Is it difficult to get rid of this potentially unwanted program? Luckily, it is not, and you can follow the guide above to do that manually. Of course, you also can employ automated anti-malware software, and we recommend doing that if other threats exist and if you want to secure your system. Note that PUPs are not nearly as bad as trojans, ransomware, and other threats that can attack unguarded systems, and you should take this opportunity to take care of security.