Do you know what ConvertBox Toolbar is?
To gather all file converters into a single place seems like a nice plan, and ConvertBox Toolbar says that it is possible. Whether you want to convert documents, measurements, images, or even video files, you can do it with this tool, it says. But this is too good to be true. All that this program is capable of is redirecting you to other file converters that are located on other websites. The real goal of this tool is to promote the Ask.com search engine, and we think that ConvertBox Toolbar is a suspicious program that should be deleted.
Why do we consider this program suspicious? First of all, various sources provide different information about the origins of ConvertBox Toolbar. The official site says that the program is distributed by InMind, Inc., and is a product of APN, LLC. All the products created by the latter operating business are designed just to promote the abovementioned Ask.com search engine. This allows us to say that the toolbar is directly related to the infamous Mindspark family, every product of which is created for the same purpose.
In addition, our researchers have found that some sources name Bandoo Media as the developer of ConvertBox Toolbar. We already have tested some products by this company, such as Searchqu and Shareaza Toolbar, and have come to the conclusion that these products should be eliminated. These programs pretend to be useful tools, helping you in various aspects of your Internet life. But in reality, they do not act in the promised way. Also, products developed by Bandoo Media trick users by entering their computers unnoticed. The same applies to ConvertBox Toolbar as well.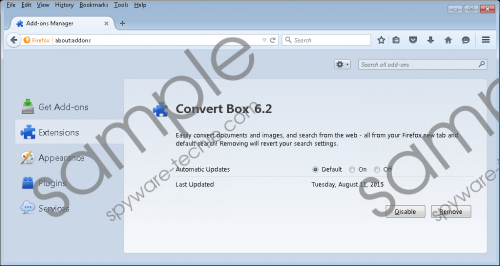 ConvertBox Toolbar screenshot
Scroll down for full removal instructions
If you keep using the toolbar, as well as the Ask.com search engine, from time to time you will encounter various links leading to third-party websites. Those websites are not controlled by the developers of ConvertBox Toolbar, and you will be solely responsible for any possible risks. Yes, most often landing on the third-party websites will only slightly annoy you, but the possibility of harsher consequences, such as becoming a victim of credit card fraud, cannot be completely excluded. Believe us, there are other ways to know how many millimeters are in a kilometer than to use this unpredictable toolbar.
At the moment, ConvertBox Toolbar affects only the Google Chrome and Mozilla Firefox browsers. You will have to remove it from your browser extensions. Our short guide will also show you how to get rid of the unwanted search engine in case you do not want to keep Ask.com. But please keep in mind that problems usually do not travel alone. While testing the toolbar, our research team has found that the program is not only available at its official site or the Chrome Web Store. It also may come bundled with other software applications. Bundles could also contain some unwanted programs, even malicious ones. So, to completely protect your system, we highly recommend that you scan it with a professional antivirus tool and get rid of all the suspicious-looking programs.
Removal of ConvertBox Toolbar
Google Chrome
Open your browser, press Alt+F, and go to Settings.
Click on Manage search engines… under Search.
Remove the unnecessary search engine.
Go to Extensions and remove the unwanted one.
Restart the browser to confirm changes.
Mozilla Firefox
Open your browser and press Ctrl+Shift+A.
Go to Extensions and remove the undesirable one.
Press Alt+T.
Go to Options and select Search.
Remove the unwanted search engine.
Restart the browser.
In non-techie terms:
ConvertBox Toolbar promotes itself as a program that allows easy conversions of images, measurements, and files. However, it only redirects you to other file converter tools. In addition, the converter replaces your default search engine. Moreover, developers of a number of suspicious applications stand behind the program. We recommend that you delete ConvertBox Toolbar with the help of an official antimalware tool using our prepared instructions.