Do you know what ContentExplorer is?
You may believe that ContentExplorer is an irreplaceable tool when browsing the web and searching for the necessary information. Without a doubt, this application is quite beneficial because it instantaneously helps you find articles related to a certain word or phrase after highlighting it on the web. Despite this, virtual security researchers suggest that you delete ContentExplorer from the operating system because this is the application which may be responsible for the flooding banner and pop-up advertisements. Note that the represented advertisements and offers actually belong to third party advertisers who are affiliated to the developer (Lake Ventures, LLC) of the potentially undesirable program. Luckily, we know how to remove this application from the operating system.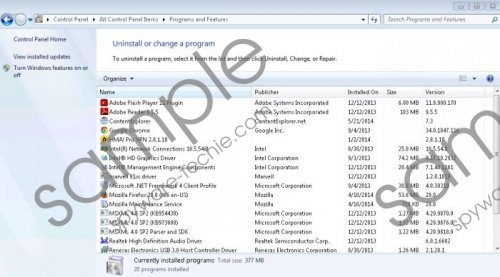 ContentExplorer screenshot
Scroll down for full removal instructions
Even though ContentExplorer has been created to help regular computer users who wish to find information quicker, there is no doubt that this program may assist third parties as well. As it is disclosed via contentexplorer.net, 'Content Explorer is a free, ad-supported utility'. It is possible that you have already faced in-line, pop-up or banner advertisements if the application is running on the operating system. Even though some of the promoted offers could be authentic, you need to be cautious because online advertising is a platform which schemers often use for the presentation of misguiding virtual scams and even malware installers. Even seemingly reliable advertisers could end up having malicious intentions, which is why you also should not be happy about the installed third party web cookies capable of tracking your activity.
In some cases you may need to remove ContentExplorer related adware because this application may be attached to custom installers promoting advertisement supported software. If this is the case, it is possible that you know nothing about the program or how it works. Malware researchers warn that running unfamiliar software could be extremely dangerous; however, the main reason for ContentExplorer removal is the enabled appearance of third-party advertisements. In order to eliminate these you can follow the manual removal guides; however, if you are worried about virtual security, enabling automatic malware removal software if your best option.
Remove ContentExplorer from Windows
Remove from Windows XP:
Click the Start icon on the Task Bar and select Control Panel.
Now double-click Add or Remove Programs to find the list of installed software.
Select the undesirable program and click the Remove button to get rid of it.
Remove from Windows Vista and Windows 7:
Move to the bottom-left corner of the desktop and click the Start menu icon.
Now open the Control Panel and click Uninstall a program.
Right-click the application you wish to delete from the PC and select Uninstall.
Remove from Windows 8:
Tap the Windows key to access the Metro UI and right-click on the screen.
Select All apps and open the Control Panel.
Go to Uninstall a program and right-click the one you wish to delete. Select Uninstall.
In non-techie terms:
ContentExplorer is a computer application which is promoted as a beneficial and reliable tool. Unfortunately, the program is linked to third party advertisers who support it financially in exchange for the displayed online advertisements. Even though not all offers are unreliable, you certainly should not risk your virtual security. Instead of clicking on random ads, we suggest ContentExplorer removal. If you are struggling with the task, follow the removal guides below. Make sure your operating system is protected if you choose to keep the program running.