Do you know what Congratulations, You Have Won fake message is?
Congratulations, You Have Won fake message is a fake alert that is designed to trick users into believing that they have won something, and they can get their prize if they click the notification. However, it is very likely that this fake alert is there to make money or exploit you in some fishy way. The bottom line is that you should not click anything on the Congratulations, You Have Won fake message because that would not result in anything good. The sooner you close this tab, the better.
There might be many different fake alert messages out there that inform you about a supposed win. It is very likely that all of these messages come from the same source. The good news is that it is very unlikely that there is a malicious program on your program that generates Congratulations, You Have Won fake message. Such pop-ups usually appear on your screen because of the websites that you visit or because of some extension that you have on your browser. It is hard to tell because this type of advertising is very common, and computer security experts simply require that users are more careful when they browse the web.
The notification may have a different message depending on the website you access and the language you use. Our research team says that there might be several versions of the same message, too, because of the different languages that can be used to when they are displayed. What's more, the fake alert may look like a pop-up generated by a popular and reliable website (such as Facebook). Familiar layout and color scheme may convince users that the notification is reliable, and they would end up clicking it. Needless to say, that is something one should never do.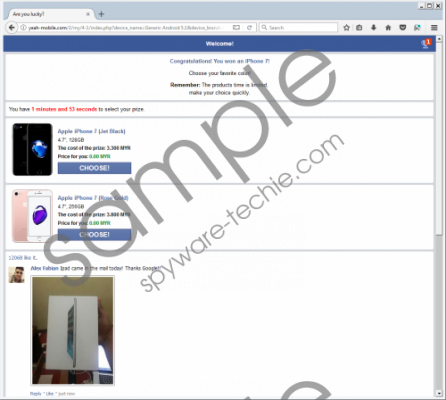 Congratulations, You Have Won fake message screenshot
Scroll down for full removal instructions
When Congratulations, You Have Won fake message pops up on your screen it greets you with "Welcome!" and it says that you have won an iPhone7. Now, all you have to do is choose your favorite color, and you will be able to claim your prize. However, the pop-up also says that you have two minutes to select the prize you want. This shows that the fake alert puts pressure on the user, giving the time limit. When you are given a certain limit, you automatically get stressed, and then it is more likely that you will make some bad decisions. Needless to say, hurrying to choose your favorite color to claim your prize would be one of such decisions.
In other instances, a random browser pop-up may tell you the following:
CONGRATULATIONS!

Your Generic Android 5.1 has been randomly selected as one of the first customers for a chance to get the iPhone7

Press OK to participate and get exclusive rewards!
Clicking the OK button leads you to a page that looks like a Facebook profile, and it urges you to "spin the wheel." When the wheel says that you have won the iPhone and click the Choose button, you get redirected to yet another website at omgtrack.com. At the moment of writing, the link does not work anymore, and it is not clear what the initial intention of the site was, but it is very likely that the people behind this fake alert were trying to track their traffic, trying to see just how many clicks they get. In other words, this redirect might have been used for statistic purposes. Later on, the data could be used for something bigger.
Whichever it might be, the bottom line is that users have to avoid the likes of Congratulations, You Have Won fake message if they want to protect their systems from malicious exploitation. Your best bet right now would be resetting your browser's settings to default. However, do not forget to run a full system scan with a legitimate computer security tool because you need to make sure that there are no potentially unwanted programs on-board.
Finally, please review the websites you visit on a regular basis because some of them could be generating these annoying fake alerts that do not allow you to browse the web with ease. For more information, please leave us a comment below.
Reset Browser to Default
Internet Explorer
Press Alt+T and click Internet options.
Click the Advanced tab and press Reset.
Select Delete personal settings and click Reset.
Press Close.
Chrome
Press Alt+F and click Settings.
Scroll down to the bottom and press Advanced.
Scroll down again click Reset.
Press Reset to confirm.
Firefox
Press Alt+H and click Troubleshooting information.
Click Refresh Firefox at the top right of the new tab.
Press Refresh Firefox to confirm and click Finish.
In non-techie terms:
Congratulations, You Have Won fake message is an annoying fake alert that is there to either use you as a paw for increasing web traffic or to make some money out of you. It is not a direct malware infection, but it could seriously impede your web browsing experience, consequently exposing you to corrupted third-party websites. You have to close the tab that displays Congratulations, You Have Won fake message, and then protect your computer from other potential intruders.