Do you know what ComputerDestroyer Ransomware is?
Hackers behind ComputerDestroyer Ransomware seek to convince their victims that the malware has encrypted their files. As you see, the threat shows a notification that says you need a decryption code to decrypt your files. Our computer security specialists say that hackers are lying as the malicious application only locks infected computers' screens. Thus, users cannot see if the files were encrypted or not. Sadly, users who believe what the malware's note says and contact hackers might get scammed as it is likely that cybercriminals will ask to pay for their offered decryption code. Therefore, we advise ignoring the threat's notification if you do not want to lose your money in vain. Instead of putting up with any demands, we recommend deleting ComputerDestroyer Ransomware. If you do not know how to erase it, you could follow our removal guide available below this report.
If you have not seen a threat like ComputerDestroyer Ransomware, you might be wondering how it managed to sneak in on your computer. Screen lockers are often spread same as file-encrypting ransomware applications. For example, hackers could disguise them as legit programs, updates, documents, and other files that would not seem dangerous. Thus, users who want to keep away from screen lockers and ransomware applications should be extra careful with files from unknown senders or unreliable websites. Any file, unless it comes from a reputable source could be a threat in disguise, which is why we recommend scanning files if they raise suspicion or come from untrustworthy sources with a reliable antimalware tool before opening them.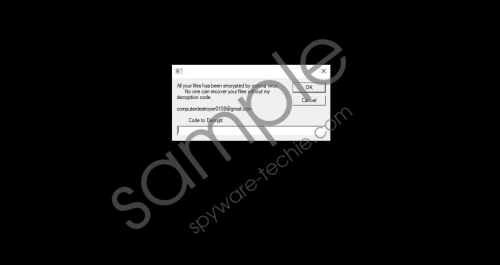 ComputerDestroyer Ransomware screenshot
Scroll down for full removal instructions
What happens if ComputerDestroyer Ransomware is launched? At first it should log you out and place a blue window in full-screen mode that ought to contain the following message: "you are infected of corona virus." If you are following cybersecurity news, you may have heard about Coronavirus Ransomware or CovidLock Ransomware, but they have nothing to do with this threat. The malware's blue window should also mention a particular email address (computertricks2018@.gmail.com) and it should contain a button called "OK." If you click this button, ComputerDestroyer Ransomware should let you log in, but only to lock your screen afterward. The malware locks it with a black window in full-screen mode that shows a grey pop-up notification.
The notification on the threat's black window says that all files were encrypted and advises to contact the malicious application's creators to receive a decryption code. Since we noticed that our tested variant did not encrypt any data, it is likely that the decryption code would simply unlock the screen. Also, we are almost one hundred percent sure that you would be asked to pay ransom or do anything else to get the promised decryption code. Naturally, since you can unlock your screen by restarting your computer in Safe Mode and then erasing ComputerDestroyer Ransomware, we recommend against doing what the cybercriminals want from you. To learn how to delete ComputerDestroyer Ransomware, we advise using our removal guide available below.
Delete ComputerDestroyer Ransomware
Restart the computer in Safe Mode with Networking (scroll lower to see the instructions that could help you complete this step).
Press Windows Key+E.
Navigate to these paths:
%USERPROFILE%\Desktop
%USERPROFILE%\Downloads
%TEMP%
Find data belonging to the malware (it could be any suspicious recently downloaded files), right-click the threat's files, and select Delete.
Close File Explorer.
Scan your computer with a legitimate antimalware tool to check if you managed to erase the screen locked completely.
Erase the antimalware tool's identified issues.
Restart your computer as usual.
In non-techie terms:
ComputerDestroyer Ransomware seems to be a screen locker as it locks victims' screens to prevent them from accessing their computers. Moreover, the malware's notification might claim that the threat also encrypted users' files and that they will be useless without a decryption code to unlock them. It is likely that in exchange for the decryption code cybercriminals could ask to make a payment. Fortunately, our computer security specialists confirmed that the malicious application does not encrypt any files. Thus, if your device gets infected with this screen locker, we advise not to contact hackers and follow our removal guide available above. It will show you how to unlock your screen and delete ComputerDestroyer Ransomware. If you need more assistance with the threat's deletion or you have any questions about it, we invite you to leave us a message in the comments section available a bit below this paragraph.