Do you know what Common Dots is?
Common Dots is nothing more than a common ad-supported program, commonly known as adware. Although it wants to save us time "to connect the dots," in reality, it does nothing else but shows us annoying third-party advertisements, commercials, and shopping offers. These ads are not without risk though, and most users are not even aware them. We hope that our report will help you get a grasp of what you might be introduced to if this adware has infiltrated your system and started to display its potentially dangerous ads. You need to know your "enemy" before you can tackle it. If you learn more about what kinds of safety issues you might experience, we have no doubt that you will remove Common Dots right away.
The most likely way Common Dots may enter your system is in a free software bundle. Although this application does have a website, commondots.info, it looks like it was rushed and not even finished because the app is not available for download anywhere on the site. Even the menu is hardly visible; it feels like the developer does not want you to read its legal documents. So, there is a pretty good chance you did not download this adware knowingly. That is why it is important to know that freeware bundles have a dark side; they might be created with bad intensions. This means that there are certain third parties who may include malware, such as adware, browser hijackers, and Trojans in a package in order to infect computers for their own purposes. It is quite possible that if you are infected with Common Dots, you will find other malware as well on your computer. Therefore, it is important that you not only delete Common Dots, but also all other threats lurking in the forest of bits and bytes on your hard drive.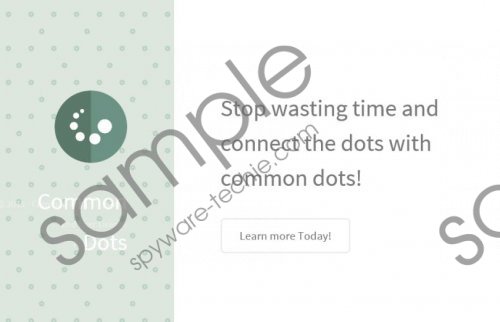 Common Dots screenshot
Scroll down for full removal instructions
It requires a clairvoyant to know what Common Dots is supposed to do since the website is not too informative about it. All we can grasp from its main page slogan is that it helps us saving our time by connecting the dots, whatever that really means. As a matter of fact, it does not even count because research clearly shows what this adware actually does. It gathers data from your browsing history and web cookies to determine what websites you like to visit, how much time you spend there, what kinds of products you are interested in, and more. This adware application can also share this with third parties who will start to send customized ads to your screen. One click on the wrong ad and you might put your system at risk. Keep in mind that these ads can be utilized and corrupted to navigate you to malicious websites operated by cyber criminals. There are several ways how this can hurt you and getting more infections onto your computer might be the least worrying one. That is why we recommend removing Common Dots ASAP.
There are only two things left to do in order to restore you system's security. First, you need to clean Common Dots from your system by using its uninstaller in Control Panel. If you follow our removal guide below, you should be able to do it in no time. Second, you cannot forget about the possibility that there may be other threats hiding on your system. Therefore, it is essential to run a full system scan to determine the number of infections. If the scanner returns an unfavorable report, you cannot hesitate anymore and you should install a reliable antimalware program to clean your computer and keep it safe from further attacks.
How to remove Common Dots from Windows
Windows XP
Click Start and select Control Panel.
Access Add or Remove Programs.
Click on the application and click Remove.
Windows 7 and Windows Vista
Tap Win+R and type in control panel. Click OK.
Click Uninstall a program.
Click on the unwanted application and click Uninstall.
Windows 8 and Windows 8.1
Slide the mouse cursor to the right end of the screen and select Settings on the Charm bar.
Access Control Panel and click Uninstall a program.
Right-click on the application and select Uninstall.
In non-techie terms:
Common Dots is a useless application that is labeled as adware due to the third-party advertisements it displays on your screen every time you use your browsers. There might be unreliable ads among these that can cause serious harm to your system and even your privacy. In order to be totally safe, we suggest removing Common Dots from your PC and installing a trustworthy security tool that can watch over your system and protect it from malicious programs.