Do you know what Common Dictionary is?
Common Dictionary is an adware application that can be downloaded at common-dictionary.com. However, we firmly believe that the main website is not a primary distribution source because such adware programs often come bundled with freeware apps. Consequently, if you have Common Dictionary on your computer, and you have no idea how it arrived at your system, chances are the program was installed together with some recently downloaded application. This program is barely useful, and you are strongly encouraged to remove Common Dictionary from your computer.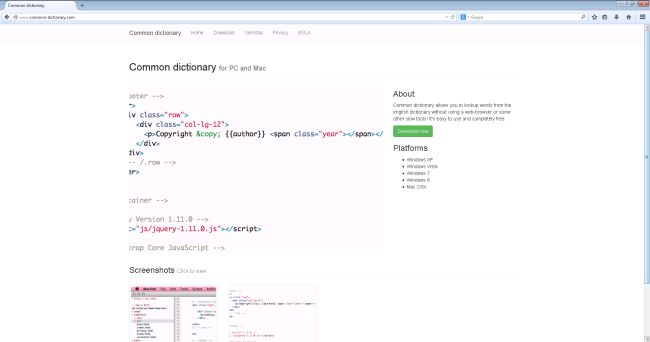 Common Dictionary screenshot
Scroll down for full removal instructions
If we take a look at the official homepage for Common Dictionary, the page says that this application has been developed for PC and Mac. It says that "Common Dictionary allows you to lookup words from the english dictionary without using a web-browser or some other slow tools!" Take note of the poor English spelling skills on this official website. Although it says that Common Dictionary is compatible with Windows XP, Windows Vista, Windows 7, Windows 8, and Mac OSX platforms, you should not trust this application. After all, it is very likely that you did not intend to have this application on-board, so the best you can do with it is uninstall it.
Whether Common Dictionary can really help you utilize an English dictionary or not, the main security concern related to this application is third-party commercial advertisements. Our research team has found that Common Dictionary displays annoying pop-ups with commercial content. The program can also connect to the Internet without your permission, and it auto-starts with Windows. Therefore, if you did not notice that Common Dictionary was installed on your computer, this program could run for an extended period of time, consequently slowing down your browser and even your machine.
What's more, according to the program's EULA, you can receive targeted content. means that Common Dictionary may display advertisements, banners, coupons, or text links by inserting them into supported web pages. At the same time, it also means that Common Dictionary tracks your web browsing data in order to target the third-party commercial content at you. Do not be surprised to see that Common Dictionary ads are related to your most recent searches because that is the point of an adware program: checks your web browsing habits and then displays pop-up ads accordingly.
Needless to say, you have to refrain from clicking Common Dictionary ads because they can lead you to unreliable websites. On top of that, the program itself is barely useful, so the sooner you remove it from your computer, the better. After manual removal, do not hesitate to run a full system scan with the SpyHunter free scanner. You need to be sure that your system is safe and secure.
How to remove Common Dictionary
Windows 8
Move the mouse cursor to the bottom right of your screen.
Click Settings on the Charm bar and go to Control panel.
Select Uninstall a program and remove Common Dictionary.
Windows Vista & Windows 7
Open the Start menu and click Control Panel.
Click Uninstall a program and remove Common Dictionary.
Windows XP
Click the Start button and navigate to Control Panel.
Select Add or remove programs and uninstall Common Dictionary.
In non-techie terms:
Common Dictionary is a potentially unwanted application classified as adware. This program promises to provide you with a useful function, but, in reality, all it does is collect data on your web browsing habits and expose you to potentially corrupted content. Remove Common Dictionary ASAP and protect your PC from harm.