Do you know what Clickstar.club is?
Clickstar.club is not some club that you can join to find a community of like-minded people or reap any benefits. You can "join" in a sense by accepting notifications that are introduced, but if you did that, you would be flooded with advertisements, and they are unlikely to be very reliable. In fact, your virtual security could be jeopardized if you interacted with these ads. So, have you "joined" the club introduced by this adware server by accepting notifications? If you have, there is nothing else to do but remove Clickstar.club notifications. Is that hard to do? Not at all, and we have created a guide to make things even easier for you. Before you continue reading, we suggest scanning your system. Perhaps there are other threats that you need to delete also? a
As you can see by the added screenshot, Clickstar.club requests to enable notifications with the help of a pop-up that claims this: "clickstar.club wants to Show notifications." The pop-up could also be presented via a webpage with a message like this one: "Press "Allow" to verify, that you are not a robot." Judging by this message, we assume that you might be tricked into enabling notifications when trying to access some kind of content. That could be a link/button to a free movie stream, or access to an adult website. That is how the advertisers behind Oojk.pro, Osmes.pro, Maranhesduve.club, Laininvitableim.club, and other well-known adware servers can trick careless people into enabling their notifications as well. Most people are likely to do that by accident, but some might accept notifications willingly. After all, the notifications feature is not inherently malicious, and it has been successfully employed by highly popular websites too.
Unfortunately, when you enable Clickstar.club notifications, you are likely to be flooded with ads, which, of course, is not what would happen if you enabled the notifications introduced by legitimate websites. The point of the adware server is to feed you ads, and it can do that successfully by showing numerous pop-ups whenever you browse the web. Since cookies are likely to be used to spy on you too, the pop-up ads might even correspond to recent searches or previous browsing history. Whatever you do, do NOT click on Clickstar.club ads because they could redirect to malicious websites. There, you could be tricked into downloading PUPs and malware, disclosing personal information, purchasing fake or overpriced items, and simply boosting traffic to unreliable or unpopular websites. If you want to escape all that, ignore the advertisements and immediately delete the notifications coming from the adware server.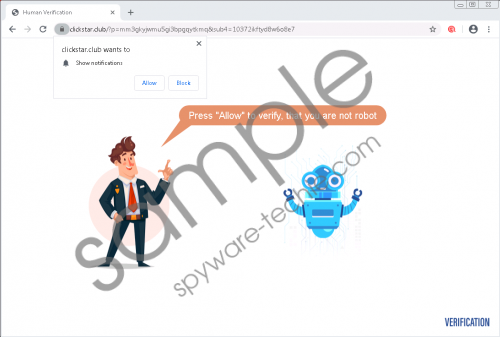 Clickstar.club screenshot
Scroll down for full removal instructions
Most people have no clue how to delete unwanted notifications from their browsers. In fact, they might not know that that is possible at all. Luckily, it is possible, and if you want to delete Clickstar.club notifications from Firefox, Edge, or Chrome browsers, you should have no trouble following the guides below. Clearing browsing data is another thing we recommend doing. Finally, if you have yet to scan your system, we suggest you do it as soon as possible. What should you do if malware is found? You must delete it, of course, and if you cannot do that manually, we encourage you to implement anti-malware software. It will automatically delete all threats and, at the same time, strengthen your system's security.
Remove Clickstar.club notifications
Mozilla Firefox
Open the browser, tap ALT+T on the keyboard, and click Options.
Open the Privacy & Security menu, go to History, and click Clear History.
Select a time range and boxes you want and then click OK.
In the Privacy & Security menu, go to Permissions.
Click the Settings button next to Notifications.
Find the ad server's URL, click it, and then click Remove Website.
Microsoft Edge
Open the browser, tap ALT+F on the keyboard, and click Settings.
Open the Site Permissions menu and then go to Notifications.
Find the ad server's URL, click the More actions icon on the right, and click Remove.
Tap ALT+F again, click History, and then click Clear browsing data.
Select the time range and boxes you want and then click Clear now.
Google Chrome
Open the browser, tap ALT+F on the keyboard, and click Settings.
Move to the Privacy and security menu, go to Site settings, and click Notifications.
Find the ad server's URL, click the More actions icon on the right, and click Remove.
Tap ALT+F again, click More tools, and then click Clear browsing data.
In the Advanced menu, select a time range and boxes you want, and click Clear data.
In non-techie terms:
You must remove Clickstar.club notifications. This is not a matter of preference, and while you might enjoy notifications presented by different websites, you must remove those that are introduced by an unreliable adware server. The longer you wait to get rid of these notifications, the more advertisements will flood your screen, and that puts you at risk of facing malware and scams. Do you know how to delete Clickstar.club ads? You have to remove the notifications associated with the adware server, and that can be done quite easily following the instructions above. As you can see, we have covered the most popular browsers in these instructions, but do not hesitate to ask for our assistance if you need to delete the ads from different browsers. Once you have the suspicious ads disabled, please scan your system to check if there is anything else you must remove. If there is, install trusted anti-malware software to help you.