Do you know what ClearThink is?
You might come across numerous applications that are advertised as useful tools that will present you with best online shopping deals. ClearThink is one of those applications. Unfortunately, very few applications will do that. And you should know that ClearThink does not fit that tiny list. ClearThink is just your average adware application. Sadly, reports show that quite a few users are getting their systems infected with this nasty program. Annoying third-party commercial adverts and pop-ups are the key features of ClearThink. If you noticed such behavior while browsing the web and you what to stop it, well, you will have to remove ClearThink from your PC entirely. Researchers at Spyware-Techie.com are here to help. We have put up a comprehensive removal guide for your benefit.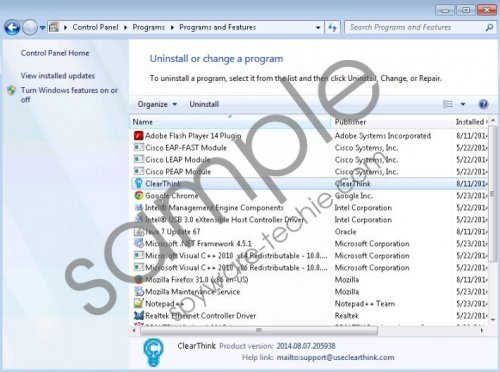 ClearThink screenshot
Scroll down for full removal instructions
Since the direct download button does not work on the official ClearThink website, it is quite obvious that the publishers of this application are using other methods to distribute their application. The most common method of distributing adware applications is via bundled software. Avoid dubious websites for software downloads as they tend to promote bundled installers. Furthermore, when installing any program on your PC, you should choose the advanced installation method as it presents you with detailed information about the setup; you might even be able to cancel the installation of other unwanted applications. In addition, you are recommended to install a reliable antimalware program in order to secure your system form any infectious infiltration.
Malware experts at Spyware-Techie.com labs revealed that ClearThink is a product of the notorious group known as SuperWeb LLC. Adware applications such as Cantataweb, ZoneTrek, RockResult, Mobeema, Fourfinder and many others were also developed by the same company. ClearThink does not differ all that much from these applications. It works in virtually the same way. As soon as ClearThink gets onto your PC, it will install browser extensions to browsers such as Mozilla Firefox, Internet Explorer, and Google Chrome. These extensions are needed to present you with mostly worthless third-party commercial adverts while you browse the web.
The extensions use adware servers, which are known to be related to malware distribution, in order to display various adverts; thus, it is very likely that some of those adverts might contain a redirect link. You might get redirected to a fake web store set up by cyber crooks to steal your sensitive data. Avoid clicking any of the ads provided by ClearThink as they might result in detrimental consequences. Removal of ClearThink is the only thing that should be done regarding this adware.
The removal process is not that tricky, so even a user without advanced computer knowledge should be able to execute it without trouble. Keep in mind that rechecking your system after manual removal for traces of the infection is firmly advisable. Leftovers could be quite detrimental by themselves as they might allow other internet-based infections enter your system easily. If you think that manual removal is not for you, our research team recommends that you use a reliable antimalware tool for removal proposes.
How to remove ClearThink from your operating system
Remove ClearThink from Windows 7 and Windows Vista
Tap the Windows+R keys on your keyboard.
Type Control Panel into the text box.
Click OK.
Now select Uninstall a program.
Select ClearThink and click Uninstall.
Remove ClearThink from Windows 8
Tap the Windows+Q keys on your keyboard.
Then type Control Panel into the search box and tap Enter.
Select Uninstall a program.
Locate ClearThink and the double-click it to remove it.
Remove from Windows XP
Tap the Windows key on your keyboard.
Select Control Panel.
The click Add or Remove Programs.
Select and remove ClearThink.
In non-techie terms:
Removal of ClearThink is paramount if you are keen on keeping your system secure. If you wish to remove ClearThink automatically and ensure that your system was cleaned entirely, please follow the instructions below.