Do you know what Cleanignite is?
Cleanignite is an adware program that is supposed to help you clean your browser's history. The point is that you don't need a third-party tool to achieve that because you can easily clear the history through your browser's settings. Hence, you should remove Cleanignite from your computer, as you can never know what unreliable websites this adware app might expose you to. While you are at it, you should scan your PC with the SpyHunter free scanner to see whether you have more unwanted applications installed. Do not be surprised if you find any because adware programs often get distributed in packs.
If you we take a look at cleanignite.com, which is the official website for Cleanignite, the website looks sophisticated enough, but it doesn't provide us with any download link or any program sample. On the other hand, if we check out the Terms of Service section, we can see that Cleanignite is presented as an ad-supported application, and whenever you access the Internet, you "may see additional banner, search, pop-up, pop-under, and in-text link advertisements." It also says that the content of the ad depends on what kind of web pages you usually surf on the Internet.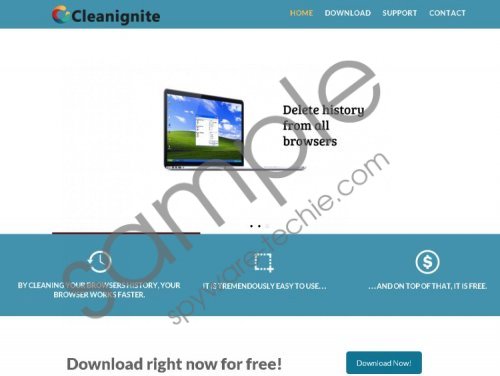 Cleanignite screenshot
Scroll down for full removal instructions
This means that unless you remove Cleanignite from your system, the application will employ tracking cookies to collect information on your web browsing habits. Naturally, this information is not personally identifiable, but you should be careful about it because the collected data could be used for various online marketing schemes. Not to mention that Cleanignite will spam you with annoying advertisements, without the intention to provide you with any useful function in return.
This is exactly what our security experts say: Cleanignite does not do anything useful. The only reason this program enters your system is to display the third-party commercial ads in order to generate financial profit.
Since this program cannot be downloaded directly, we can conclude that Cleanignite gets distributed bundled with freeware and shareware on file sharing websites. Don't click random download buttons on torrent or other p2p websites. By clicking them, you would initiate a freeware download and then you would have a ton of unwanted programs to delete from your PC.
First and foremost, deal with Cleanignite. Open Control Panel and remove the unwanted application from your system. If you are not sure whether manual removal is enough to protect your system from unwanted applications (and usually it is not), once you have uninstalled all the unwanted apps, scan your system with a computer security tool. In case more unwanted files or programs are detected, delete them automatically at once.
How to delete Cleanignite
Windows 8
Move the mouse cursor to the bottom right of the screen.
Click Settings on the Charm bar and go to Control Panel.
Select Uninstall a program and remove unwanted programs.
Windows Vista & Windows 7
Click the Start menu and go to Control Panel.
Select Uninstall a program and remove unwanted applications.
Windows XP
Open the Start menu and navigate to Control Panel.
Access Add or remove programs and uninstall unwanted applications.
In non-techie terms:
Cleanignite is an adware application that claims it can provide you with some useful function. Unfortunately, it does nothing of the sort. The program merely spams you with annoying ads, trying to force you into clicking the outgoing links. Do yourself a favor and remove Cleanignite from your system immediately.