Do you know what Clean Pc Pro 2018 is?
Clean Pc Pro 2018 is a system optimization tool that might cause a lot of confusion. It could be especially confusing if you did not want to have it in the first place. When you think about it, why would a program you did not want be there on your computer? Is it a malicious infection? How did it slither in? The good news is that Clean Pc Pro 2018 is not a dangerous infection, and you can easily uninstall it via Control panel. The bad news is that there might be more unwanted programs on-board.
Perhaps you are wondering how this program can enter your computer without you realizing it if it is not a malicious infection. Well, a malicious infection usually does not require your permission to be installed on your PC. It just infects you, and that's it. A potentially unwanted program, on the other hand, will need your authorization to be installed on your system. The problem is that users often give that authorization unawares when they go through freeware installation. And if you have recently installed some new application, it is very likely that Clean Pc Pro 2018 came with it.
This is one of the main reasons computer security experts warn users against downloading programs from file-sharing pages. Although third-party sources seldom try to infect users with anything, they also do not review the programs that are hosted on their servers. There are a lot of third-party installers that carry more than one application. So when you set up a new application, you need to read all the steps carefully. You might actually be given a chance to choose whether you want to add all those additional programs or not. If you miss it, you will end up with a lot of unwanted apps on your computer.
If you did not want to have Clean Pc Pro 2018, at first, the program would definitely confuse you. Then, perhaps, you will think that it is not such a bad idea to have it installed because it promises to fix multiple system errors. After all, it is a system optimization tool, so what could go wrong? Actually, quite a few things do not add up here. First, if you did not plan to have the app, there is no need to keep it. Second, Clean Pc Pro 2018 does not optimize your system just like that.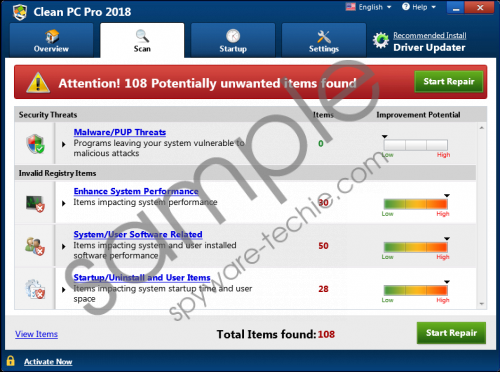 Clean Pc Pro 2018 screenshot
Scroll down for full removal instructions
When the program is launched, it will initiate a full system scan. During the scan, Clean Pc Pro 2018 will look for "potentially unwanted items." These potentially unwanted items are usually old leftover files that remained on your system when you uninstalled some unnecessary program. Or perhaps it is temporary files that the program identifies as a potential error. Whichever it might be, to start the repair (as this application puts it), you would need to buy the full version of this program. The program will redirect you to the purchase page where it will tell you that you can get the full version of Clean Pc Pro 2018 cheaper as it is a limited time offer.
On the other hand, we are not sure whether your financial information will be handled securely if you reveal your credit card numbers to these people when you make the purchase. Since potentially unwanted programs are often fishy, you should check out various recommendations and feedback messages about Clean Pc Pro 2018 to make sure it is safe (that is, of course, if you are considering using it in the first place).
On the other hand, our suggestion stays. We would recommend removing Clean Pc Pro 2018 from your system if you indeed did not want the application. You can find the removal instructions right below this description. If you want to be absolutely sure that your computer is safe and clean, you should consider investing in a legitimate antispyware application that would terminate all the potential threats automatically. Aside from acquiring a security tool, you should also think about improving your web browsing habits because they also play an important role in keeping your system and your data safe. For more questions, please feel free to contact us.
How to Remove Clean Pc Pro 2018
Windows 10 & Windows 8.1
Press Win+R and the Run prompt will open.
Type Control Panel into the Open box. Click OK.
Select Uninstall a program and remove the app.
Windows Vista & Windows 7
Go to the Start menu and open Control Panel.
Click Uninstall a program and remove the program.
Windows XP
Open the Start menu and navigate to Control Panel.
Select Add or remove programs and remove the application.
In non-techie terms:
Clean Pc Pro 2018 may not be the worst computer infection out there, but this program could still leave you confused, especially if you did not want it. It is a potentially unwanted program, and as such, it should not be tolerated. Unless you downloaded this application from its official homepage, you should remove Clean Pc Pro 2018 from your system right now, and then look for other undesirable programs. The point is that just apps seldom travel alone, so you are bound to have many other suspicious programs installed.