Do you know what CIP QxSearch is?
CIP QxSearch is an extension that can be downloaded onto Google Chrome. In the past, this extension was promoted at chrome.google.com/webstore/detail/cip/ffpmjgjkflkhffekbjbmiaidgmafogec on the Chrome web store, but this installer is no longer available. This is a true testament to the potentially unwanted program's (PUP) true nature. If Chrome has deleted the extension from its store, you simply cannot trust it. Unfortunately, it is possible that the extension could still be spread with the help of unreliable installers. These could be bundled too, which means that the suspicious PUP could be spread along with other questionable programs or even malicious threats. So, if the extension is installed, the first thing you should do is scan your operating system. If you are lucky, no other threats will be found, but if you learn that you need to remove CIP QxSearch along with other threats, you will be able to move in the right direction.
When CIP QxSearch was still promoted via the Chrome web store, it was introduced to users as a tool that "configures your default search settings to qxsearch.com." This website is currently down, but we cannot know for sure that it will not go back up again. XQC is presented as the default search engine, and so if the extension is installed, you should find the search tool in the chrome://settings/searchEngines menu. Of course, it is unlikely that you would be able to delete the search tool here because it is linked to the add-on. That means that you would get rid of the suspicious search engine only if you deleted CIP QxSearch. So, why exactly should you remove this extension and the accompanying hijacker? First of all, it does not offer you any benefits. Sure, it might claim to make your web searches more secure, more private, and faster, but these alleged benefits have no grounds.
According to our research team, CIP QxSearch might also collect information about users while they surf the web. Although most service providers track their customers/users, you do not want unreliable and suspicious extensions doing that as well. Do you even know how the gathered information could be used? If you do not, you have no reason to trust CIP QxSearch. Our team also informs that the hijacker of this potentially unwanted program should redirect searches to a third-party search engine, and that cannot help you with anything either. You certainly should not expect your searches to be more secure or more private. If you want to browse the web more anonymously, why not go incognito? You can open Google Chrome and tap keys Ctrl+Shift+N to switch to Incognito mode. This feature enables private browsing during which browsing history, cookies, site data, and entered information is not saved.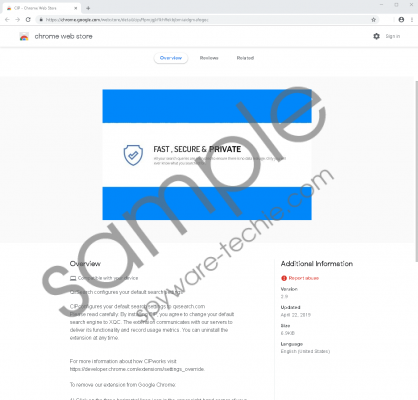 CIP QxSearch screenshot
Scroll down for full removal instructions
There is no use for CIP QxSearch, and so the only logical thing to do is to remove this potentially unwanted program from your Google Chrome web browser. We have created a guide that shows how to delete this PUP manually, and we have also added steps that show how to clear browsing data. In case any cookies were placed to spy on you, they will be eliminated in the process. Of course, this is not the best solution if other threats were found by the malware scanner we mentioned in the first paragraph. So, were other threats found? If they were, you might find helpful removal guides on our site, but it might be quicker and more convenient to install an anti-malware program that would perform automatic removal.
Remove CIP QxSearch
Open Google Chrome.
Tap Alt+F keys simultaneously to launch Chrome menu.
Select More tools to access more options.
Click Extensions to find all installed add-ons.
Remove the undesirable one.
Tap Ctrl+Shift+Delete keys to launch Clear browsing data menu.
Pick a time range, select boxes, and click Clear data.
In non-techie terms:
Even though CIP QxSearch might promise a service you are interested in, our research team recommends deleting this potentially unwanted program immediately. It will not make your browsing safer or faster, and if you want more privacy, you can always use Chrome's incognito mode, which is already integrated into your browser, and so you do not need to install anything additionally for the same effect. Besides that, the PUP can hijack the default search provider, redirect searches, and maybe even record sensitive data. These are the reasons we recommend deleting CIP QxSearch without further delay. Follow the guide above if you want to remove this PUP manually, or install an anti-malware tool if you are dealing with multiple threats and if you need help protecting your system and browsers in the future.