Do you know what Cinemax Plus is?
Compatible with Mozilla Firefox and Internet Explorer, Cinemax Plus is an adware application that we advise you to remove because not only will its functionality disappoint you, but it is also potentially dangerous to keep it on your system. The premise of Cinemax Plus is to enhance your online video watching experience by automatically adjusting computer screen lights. Though it seems like a promising feature if your spending free time consists of binge watching the hottest TV series, in practice you will not find Cinemax Plus that indispensable. However this is not the only reason why computer users choose to remove this application from their system. First of all, the fact that this application is based on the Crossrider engine, which is responsible for such other unreliable applications as Cinema Now, PlusHD, and HQVideo, does not inspire much confidence to keeping this adware application on your system for a longer period of time.
Like Move Mode, TV Wizard, TV Genie, and other similar applications, Cinemax Plus is an advertisement-supported program that not only fails to improve your movie watching experience but also crams your Internet browser with ads that you will find so distracting you will want to remove this application from your system immediately. Moreover, Cinemax Plus (which might be tagged "Ads by Cinemax" or "Ads by Cinemax Plus", or similarly) might be serving commercial content from potentially malicious third-parties, so you should think about whether you are really ready to put your computer's security at risk for an application which is not at all useful.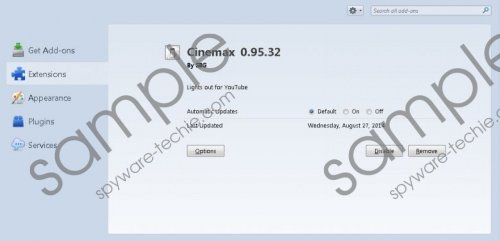 Cinemax Plus screenshot
Scroll down for full removal instructions
Though Cinemax Plus might work hard to provide you with as interesting advertising material as possible, you should not make the mistake of clicking on the promoted links. These links might reroute you to unsafe sites that can result in a virtual security risk. Bear in mind that Cinemax Plus might be spread bundled with fake Java or Flash player updates or other unreliable software that can be dropped onto your system if you are not sufficiently vigilant. It is possible that in order to clean up your system from threats you will need to remove not only Cinemax Plus but all the additional unreliable software it came with.
It is important to keep your computer clean from suspicious content, and that is why you should delete Cinemax Plus. The quickest and most reliable way to terminate Cinemax Plus from your machine is to choose automatic malware removal software. This approach is especially recommended because automatic removal tools will also detect "adware helpers," additional unreliable applications, that might have entered your machine together with Cinemax Plus. More experienced users can choose to follow our manual removal guide appended to this article.
The removal of Cinemax Plus
Windows 8 & 8.1:
Open the Charm bar at the bottom right corner of your screen and click Settings.
Choose Control Panel.
Switch to Small Icons under View by and open Programs and Features.
Click on Cinemax in the program list.
Click Uninstall/Change to remove the undesired application.
Windows 7 & Vista:
Open the Start Menu and select Control Panel.
Switch to Small Icons under View by and click Programs and Features.
Select Cinemax in the program list.
Click Uninstall/Change.
Windows XP:
Open the Start Menu and select Control Panel.
Switch to Category View and open Add or Remove Programs.
Select Cinemax in the program list.
Click Remove.
In non-techie terms:
Cinemax Plus is an adware application that might compromise your system security by spamming your Internet browser with ads. This application might redirect you to unsafe, malware-containing websites. Cinemax Plus not only fails to provide you with features worth your attention, but might also be utilized by malevolent entities to exploit vulnerabilities present in your system. Employ trusted and tested antimalware tools to remove this dangerous application from your machine.