Do you know what CinematicFanatic Toolbar is?
Even if you have never seen this application before, we have seen plenty of programs that are very similar to CinematicFanatic Toolbar. This is a browser extension that is categorized as a potentially unwanted program. It means that on the surface, there is hardly anything malicious about this application, and it seemingly comes forth offering something useful. However, it is very unlikely that users would have installed this application willingly, and so if you are one of them, you might want to remove CinematicFanatic Toolbar from your computer right now. After all, this is why you are reading this description, right?
Now, why do we say that we have seen similar applications before? That is because CinematicFanatic Toolbar comes from the Mindspark family. This group of browser extensions has a lot of similar toolbars on the list, and we have just recently discussed Converters Now Toolbar and MyFileConvert Toolbar, too. Aside from their main "function," the toolbars from this group are technically identical, so we can know what to expect of CinematicFanatic Toolbar and all the other apps that will be released in the future. While the programs do not pose serious computer security threat, they are still a liability that should not be ignored.
All Mindspark applications have more than one distribution method. These toolbars always have official websites, and from that, we can see that they are far from malicious infections. However, you probably did not download the app from cinematicfanatic.com; otherwise, you would not be reading this description, would you? That also shows that the official website is far from being the main distribution source. Such applications may also come in software packages from file-sharing websites when you download some program you have been looking for a while.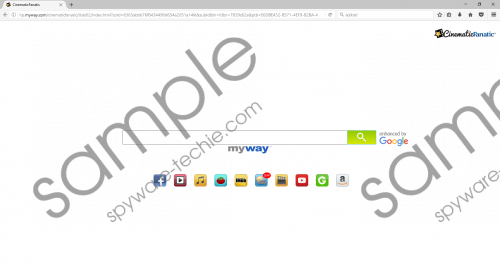 CinematicFanatic Toolbar screenshot
Scroll down for full removal instructions
When it comes to bundled downloads, you should be able to deselect CinematicFanatic Toolbar and other undesirable applications. However, the problem is that users tend to skip through the installation steps because they want to be done with it ASAP. As a result, potentially unwanted programs, adware, and other suspicious applications enter your computer when you do not expect it at all. Consequently, these programs slow down your system's performance, at the same time exposing you to potentially corrupted content.
The same applies to CinematicFanatic Toolbar as well. It is promoted as a browser plug-in that can help you watch various online videos across different platforms. However, the application installs a tool that modifies your homepage and new tab settings on Firefox, Chrome, and Internet Explorer. The program's search engine becomes your homepage, and it comes with a few links to imdb.com, rottentomatoes.com, hulu.com, netflic.com, and a few other pages that are associated with movies and TV series. However, it is highly doubtful whether you really need this application to access the said websites. If you do visit them often, you can simply add them to your bookmark bar on your default browser.
Our problem with CinematicFanatic Toolbar is that this application can collect information on your web browsing habits. If you are not careful about it, the program might expose you to unreliable third-party content. For the most part, the content will be commercial as the application generates financial profit. It might be annoying, but we could still ignore it if it were not for the potential security issues. One must not forget that this application could be exploited by cyber criminals, and if that happens, you might have to deal with a lot of dangerous intruders. Of course, that is the worse-case scenario none of us would like to consider, but the possibility is always there.
This possibility is the main reason you need to remove CinematicFanatic Toolbar right now. Once you have terminated this application, be sure to scan your PC with a legitimate antispyware tool because you might find a lot more suspicious applications on-board. You can remove them all automatically, at the same time safeguarding your PC against similar intruders.
On the other hand, please do not forget that investing in a legitimate antispyware application is just one step towards safe computer environment. You should also pay attention to your web browsing habits because the websites you visit might be the reason you often get exposed to such undesirable applications.
How to Delete CinematicFanatic Toolbar
Internet Explorer
Press Win+R and enter Control Panel. Press OK.
Go to Uninstall a program (Add or Remove programs for Windows XP).
Remove CinematicFanatic Internet Explorer Homepage and New Tab.
Firefox
Press Win+R and type %AppData% into the Open box. Click OK.
Navigate to Mozilla\Firefox\Profiles\[PROFILE]\extensions.
Delete the _i9Members_@free.cinematicfanatic.com file.
Go back to the Mozilla Profile folder.
Remove the CinematicFanatic_i9 file.
Chrome
Press Win+R and enter %LocalAppData%. Click OK.
Open Google\Chrome\User Data\[PROFILE]\Extensions.
Delete the bpkmogbhibhnpebcaipnknfkgibdhe folder.
Open Google\Chrome\User Data\[PROFILE]\Local Extension Settings.
Remove bpkmogbhibhnpebcaipnknfkgibdhe.
Navigate to Google\Chrome\User Data\[PROFILE]\Sync Extension Settings.
Remove bpkmogbhibhnpebcaipnknfkgibdhe.
In non-techie terms:
CinematicFanatic Toolbar is a browser extension that allows you to "watch classics, popular favorites, award-winning movies on your PC." Of course, it would be nice if that was it, but the application is also associated with a number of third parties that may not be as safe as we would like them to be. Therefore, to avoid a variety of potential computer security problems, you should remove CinematicFanatic Toolbar from your system immediately, at the same time ensuring your comptuer's safety.