Do you know what Chromesearch.today is?
Chromesearch.today is a search engine offering their users safe browsing. The search engine shows Google search results and can be accessed as any other regular website. If you have landed on our page, you are probably interested why the URL of Chromesearch.today flashes for a second before you are provided with search results. Quite a few computer users are worried that Chromesearch.today is a browser hijacker. This might be the case if, for example, your home page and default search engine is changed to Chromesearch.today. But now we want to draw your attention to the fact that this search provider can be used as a part of search result delivery mechanism. If you find that your search query is sent to Chromesearch.today first and only then the results are provided, we encourage you to consider taking some action to remove the cause of the issue.
Cases when users cannot access the website requested because they are constantly taken to a specific website pre-programmed by fraudsters are usually referred to as redirection. In serious cases regarding search-query hijacks, unauthorized host file modification takes place without the user's knowledge. Moreover, some other settings, for example, in the browsers' shortcuts, might be made. You might also experience so-called deceptive redirection which means that you are taken to a complete different landing page than you expected when clicking on a link on a search result page. However, you should keep in mind that not all redirects are malicious. If your search session leads to satisfactory result even though you are redirected, that is not necessarily spam.
The Chromesearch.today-related redirects may seem to be innocent, especially when you find that Google provides you with relevant search results. Our advice is to act right to remove Chromesearch.today from your browsers, because the odds are that some harmful malware or browser add-on is running on your computer. How did that piece of malware get on your PC? The answer is very simple. Every unprotected machine can get infected with malware, and malware installation takes places surreptitiously. If you do not have a powerful security program running on your PC, you are not likely to even get a hint about the potential threat. Only when some time goes by you may notice some system malfunction. In case of adware, you may notice some changes on the browsers straight away, because adware programs tend to immediately start their advertising campaigns.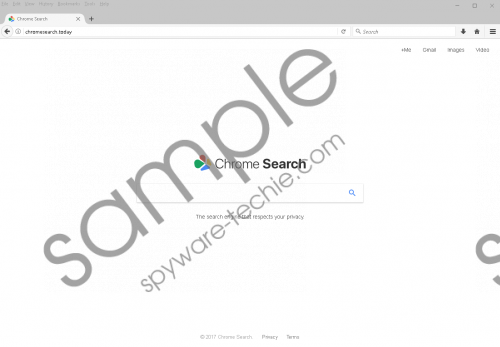 Chromesearch.today screenshot
Scroll down for full removal instructions
The reason why your search query goes to Chromesearch.today before you are provided with a list of links to various websites is likely to be related to the interest in your browsing behavior. More specifically, Chromesearch.today could be used to record search strings so that the data collected could be analyzed and used for creating new advertising campaigns or implementing some changes. The term search string refers to data typed in the search box by the user excluding irrelevant words or characters, such as the word "the," etc. This practice might not do you any harm until the data obtained is processed and put into effect.
In order to prevent unsolicited and non-requested changes on the operating system, you should pay more attention to the privacy of the OS and your personal information. The case with Chromesearch.today redirects is not as complex as instances involving ransomware, data-stealing Trojan horses, and other computer threats. Malware attacks can be averted by activating anti-malware software. Running a security program does not mean that you can now freely visit harmful websites or download every file attachment received from an unknown sender. You should still remain critical of the content you are exposed to by unknown parties so that you can prevent unwanted consequences.
When it comes to removal, you have two option. You can either eliminate the infection manually or rely on our recommended security program. Below you will find a removal guide, but you should also consider scanning the PC after completing the removal process.
How to remove Chromesearch.today
Internet Explorer
Click the gear icon in the upper-right corner of the browser window.
Select Manage Add-ons.
Click All add-on under Show.
Click the add-on you want to remove and remove it.
Mozilla Firefox
Click the three horizontal lines button to open a drop-down menu.
Select Add-ons.
On the left-side pane, access Extensions and Plugins for unwanted plugins.
Remove unsolicited add-ons if any detected.
Google Chrome
Click the Menu icon in the top-right corner of the screen.
Select the More Tools option.
Click Extensions.
Remove the unwanted browser add-on.
In non-techie terms:
Chromesearch.today is a search engine to which your search queries get redirected before your are provided with relevant search results. This happens when the computer is infected with certain malware or adware, which should be removed from the computer once spotted.