Do you know what Chromesearch.info is?
Chromesearch.info is a dubious application that should not be active on your personal computer. If you ever encounter it while browsing the web, be sure to do everything you can to avoid it. It is imperative to do so because this program happens to be one more browser hijacker. Such classification has been made after its in-depth analysis, which has revealed that it can make undesirable changes to your browser's default settings without any notification or authorization. As a consequence, browsing the web will become a much more annoying and frustrating experience. What is even more concerning is that this hijacker could subject your operating system to questionable or even malicious web content. Find out more about the inner workings of this malware by reading the rest of this article. Finally, to help you delete Chromesearch.info once and for all, we include a detailed removal guide that you can find below.
Chromesearch.info starts acting as soon as it gains access to your operating system. The primary indication that this browser hijacker is up and running on your PC is a sudden change of your browser's default settings. The main modification that it initiates is of your default homepage. One of the most annoying things in regards to such functionality is that you are in no way notified of this alteration. At first, all of this might not seem like a big deal; however, that is not the case in reality. That is so because for as long as this browser hijacker will be active on your computer, you will virtually have no choice but to start each online session on a questionable third-party site, whether you like that or not. As you can imagine, browsing the Internet the way you like will no longer be possible as it will become a frustrating experience, to put it mildly. What causes even more annoyance is the fact the newly appointed homepage does not provide any valuable features. In fact, the search box on a dubious website does not function in the way you would except. That is so because it can present you with a large number of sponsored third-party results, instead of useful ones. If you wish to restore your browser's default settings once and for all, you must remove Chromesearch.info without any hesitation. To do that quickly and easily, make sure to follow the instructions that we present below.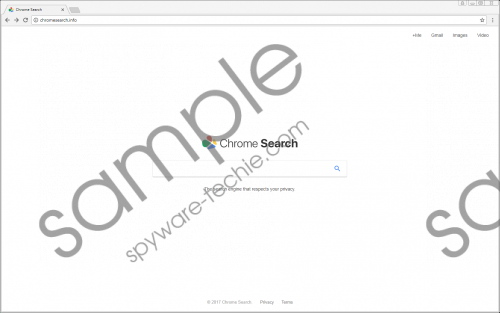 Chromesearch.info screenshot
Scroll down for full removal instructions
While Chromesearch.info is mostly annoying, you must know that having it active on your PC could have undesirable and even devastating outcomes. That is so because it might expose your operating system to suspicious or otherwise dangerous web content. Upon further analysis, our researchers have discovered that by using a search field on a newly appointed homepage could be quite dangerous. As it turns out, it could provide you with modified results, which might be embedded with redirect links. Clicking on such a result could have unwanted and even dangerous outcomes. That is so because you could be redirected to fake online stores, which are crafted by cyber crooks to steal your credit card data or other sensitive information. Also, you could come across a site running an arbitrary code execution exploit. It is important to note that just entering such a site could have disastrous outcomes because the exploit in question can initiate a remote installation of some unknown malware without requiring the user's consent. As you can see, this hijacker should not be active on your personal computer. Make sure to delete Chromesearch.info if you wish to have a secure operating system at all times.
To remove Chromesearch.info once and for all, be sure to use the instructions that we present below. It is critical to note that you must follow each step with precision because a single mistake could result in an incomplete removal. If that happens, the leftovers of this hijacker could be used to restore it silently. Furthermore, those same traces could be enough for Chromesearch.info to continue its devious functionality. If you want to avoid finding yourself in such a situations, be sure to double-check your entire operating system for anything associated with Chromesearch.info. By doing so, after you are done with manual removal, you will be sure that the termination has been successful.
How to remove Chromesearch.info from your PC
Google Chrome
Start your web browser.
Click the Chrome Menu button and select Settings.
Scroll down and click Advanced.
Scroll down and select Reset.
Click the Reset option to confirm your choice.
Mozilla Firefox
Launch your web browser.
Select the Menu button and click the question mark icon at the bottom.
Select Troubleshooting Information.
Click Refresh Firefox.
Click Refresh Firefox to confirm your choice.
Internet Explorer
Open your web browser.
Click the Menu button and select Internet Options.
Select the Advanced tab and click Reset.
Check Delete personal settings and then click the Reset button.
Click Close.
In non-techie terms:
It goes without saying, that you must delete this browser hijacker once and for all; otherwise, you PC will remain in constant danger. If you find manual removal a bit too complicated, do not worry. Our researchers have crafted an alternative removal guide, which we present below. Make sure to follow these instructions and you will be able to delete Chromesearch.info in a fully automated manner.