Do you know what Chrome Settings Button is?
Chrome Settings Button may look like a legitimate browser extension, but the reality is that it offers nothing of value to the end user. The first reason for removing it is the fact that its primary function is to add a shortcut button to Chrome's settings menu regardless that accessing the settings menu is not a hassle in the first place. The second reason is that it collects information about you that can be used for advertising purposes. Its creators may share this information with third parties because Chrome Settings Button does not show ads itself. This is one strange extension indeed that brings more questions than answers. We will attempt to make sense of this extension throughout this article, so if you have it on your browser, then please continue reading.
Officially, Chrome Settings Button is an extension that adds a settings shortcut button at the top right of the search engine to facilitate access to Google Chrome's settings menu. However, there is a problem because the settings menu is just two clicks away as opposed to one provided thanks to this extension. Therefore, it is not like this extension gives you a lot by saving a few seconds. Besides, one you are on a different page that is other than the homepage the button disappears. Therefore, we consider this extension useless. Its true purpose is unknown because it did not exhibit any other actions while we tested it.
While Chrome Settings Button does not appear as a malicious application, something is strange about it. Our malware analysts say that it might be set to collect information about you for advertising purposes. Researchers say that it might collect information such as your Internet Protocol (IP) address, Internet Service Provider (ISP) domain name, your approximate geographical location, browser type, and operating system type. While this information may not be much, it can be used for advertising purposes. However, testing has shown that this program is not adware as it does not feature any ads while you browse the web. Therefore, we are unsure about how it generates revenue. Still, this program was not created just to offer its services for free — there must be a monetary incentive to do so. Its website at Chromesettingsbutton.info states that it is "100 % free and safe." Researchers say that the collected information can be shared with or even sold to third-party entities that can use it for advertising purposes. However, there is no concrete evidence that could support this assumption.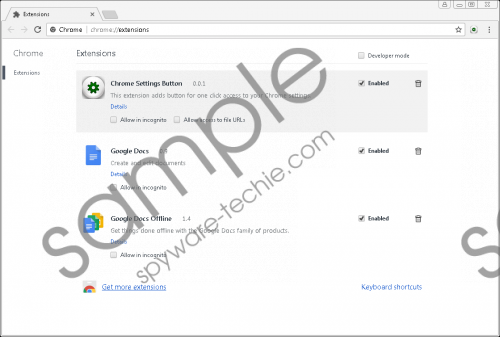 Chrome Settings Button screenshot
Scroll down for full removal instructions
This program is similar to Spider Sally Ads which offers a different gimmicky feature but does not do anything else. Both of these programs seem to come from the same developer. However, the name of the company that created them is unknown adding further suspicion about their intentions. Like its counterpart, Chrome Settings Button is featured on its dedicated distribution website at Chromesettingsbutton.info that hosts its standalone download. Also, it is featured on the Chrome Web Store which whose stats show that this extension has more than 5,000 users worldwide.
To summarize, Chrome Settings Button is a shady browser extension whose true intentions are a mystery. One thing is for sure, though, that its main feature is useless. Furthermore, the fact that it can collect information and share it with untrustworthy entities is a worrisome fact. Therefore, you may be better off if you removed this program. We have included a guide on how to do that below this article.
How to delete this extension
Open Google Chrome.
Press Alt+F.
Open More tools.
Select Extensions.
Find Chrome Settings Button.
Click Remove.
In non-techie terms:
Chrome Settings Button is a browser extension that seems to offer a useful function. The reality is, however, that its function is nothing more but a gimmick to attract potential users. This program's purpose is unknown as it is not adware, but it can collect information about you which we think is set to be shared with third-party advertisers that might make use of it somehow. You may want to remove this extension and we think that it would be for the best.