Do you know what ChineseRarypt Ransomware is?
ChineseRarypt Ransomware is a suspicious infection that can encrypt or even delete your personal files. Before it can do that, it needs to find its way into your operating system, and it should not be able to get in if your system is protected reliably. Unfortunately, if it is not protected, and if you lack knowledge about how malware spreads, cyber attackers could try to trick you. For that, they might try to employ spam emails, bundled downloaders, known vulnerabilities, other infections, and exploit kits. If the attackers succeed at dropping the malicious infection onto your computer without your knowledge, they might have the perfect conditions to terrorize you and make you pay a ransom in return for a decryptor that may or may not exist. Unfortunately, you cannot restore files by removing ChineseRarypt Ransomware, and that is why some victims might choose to follow the demands of their attackers.
Although the name of ChineseRarypt Ransomware suggests that it is somehow related to China, we could not confirm that people in this country are the main targets. Furthermore, the origin of this malware is likely to be in Russia. Overall, the name does not make sense, but that is not too surprising, considering that other similar threats have such names as Zero-Fucks Ransomware, Ims00ry Ransomware, or Poop Ransomware. Once inside, ChineseRarypt Ransomware is likely to create a RAR file and place all personal files in it. Then, a password should be added to the archive to prevent the victim from accessing it. If that is the case, the files are not actually encrypted, but, unfortunately, they are inaccessible anyway. Also, the attackers want you to believe that the files are encrypted so that they could sell you on the idea of a working decryptor. It is introduced using a file named "HOW_TO_BACK_YOUR_FILES.txt." If you find this file, you can delete it right away because following the instructions inside is dangerous.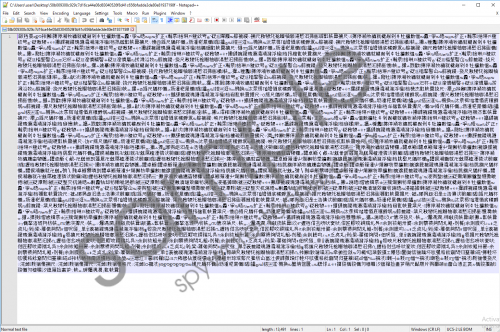 ChineseRarypt Ransomware screenshot
Scroll down for full removal instructions
If you open the TXT file created by ChineseRarypt Ransomware, you are informed that files were encrypted and that you need to follow specific instructions to obtain the so-called "decrypt tool." These instructions suggest sending a unique ID number – which is included in the message – to Decryptcn@protonmail.ch. It is stated that once you send the message, the attackers can provide you with instructions on how to pay for the decryption tool. Also, to prove that decryption is possible, they agree to decrypt a few files for free. Even if that works, that is no indication as to how things would resolve if you paid the ransom. At this time, it is unknown how big or small this ransom is, and it could be personalized. In any case, we do not advise paying it because the existence of the decryptor cannot be confirmed, and we certainly cannot guarantee that your money would not go to waste. So, if you are planning on contacting the attackers behind the malicious ChineseRarypt Ransomware, make sure you are confident with your decision.
According to our research team, if the victim of ChineseRarypt Ransomware manages to obtain the malicious script, decryption could be possible. Unfortunately, we cannot guarantee this. We also cannot guarantee that you will be able to delete ChineseRarypt Ransomware manually. In fact, it is possible that this malicious threat could remove itself automatically soon after encryption and after the TXT file is created. Due to this, manual removal is not recommended. Instead, we suggest employing anti-malware software that could automatically eliminate all malicious components and also secure your operating system to prevent new infections from invading it and corrupting your files. We hope that you have backups that can replace the corrupted files because we do not know if decryption is possible.
Remove ChineseRarypt Ransomware
Delete the file named HOW_TO_BACK_YOUR_FILES.txt (if copies exist, erase them too).
Delete all recently downloaded files and then Empty Recycle Bin.
Install a trusted malware scanner and run it to perform a thorough system scan.
If malicious threats are found, eliminate them immediately.
In non-techie terms:
ChineseRarypt Ransomware is an infection that uses stealth techniques to enter the operating system and take personal files within hostage. It appears that the threat locks all personal files in a password-protected archive, and we cannot provide you with this password. The attackers behind the infection want you to believe that you can purchase a decryptor, but we cannot recommend wasting your savings because cyber criminals are unpredictable, and they are unlikely to give you the password regardless of what you do. We hope that you have backups stored outside the infected system and that you can easily replace the locked files once you delete ChineseRarypt Ransomware. Eliminating this malware manually might be a hassle, but if you install legitimate anti-malware software, the threat will be erased automatically.