Do you know what Chill Tab NewTab is?
Chill Tab NewTab is a Google Chrome browser extension which has recently been categorized as a potentially unwanted program (PUP). The browser extension offers computer users the quick search, which is a quite common description used by software creators seeking to benefit from inexperienced user. Almost every online service provider aims to offer Internet users quick and relevant search results, and the Chill Tab NewTab extension is no exception. Since this browser add-on is considered to be a PUP, it can be removed from the affected browsers by certain security programs, including our recommended malware and spyware prevention tool.
Chill Tab NewTab is promoted as a useful and necessary tool in the Chrome Web Store, according to which there are only 12 users of the program. The number indicated does not show the actual number of the users since Chill Tab NewTab is also spread as a part of software bundles. Like many other PUPs, Chill Tab NewTab can be installed as an optional (or not optional) program alongside various desktop applications. Paying a very close attention to the way software is installed is important since you might have a chance to prevent the installation of unwanted programs. However, sometimes PUPs are installed without prior notice, which should be considered a privacy violation. In order to prevent unexpected changes in the system performance or privacy related issues, you should always be aware about the changes on your computer. If you do not remember installing Chill Tab NewTab, do not delay the removal of this application.
Once on the computer, Chill Tab NewTab makes cardinal changes on the Chrome browser by setting a new startup page, new tabs, and default search provider. The search provider is changed to search.chill-tab.com/?q=e, which you should use carefully. Instead of relevant and reliable search results, you might be given a search result page containing some links to malicious websites. This type of scheme when users are provided with relatively unknown search engines is quite common, and security experts attempt to raise users' awareness of the dangers that might be posed while using questionable search providers. The modified search results, or rather the links added by some schemers, may take you to malware distribution or advertising website. On such websites, you might be lured into downloading fake software or getting involved in other shady activity leading to online privacy-related issues.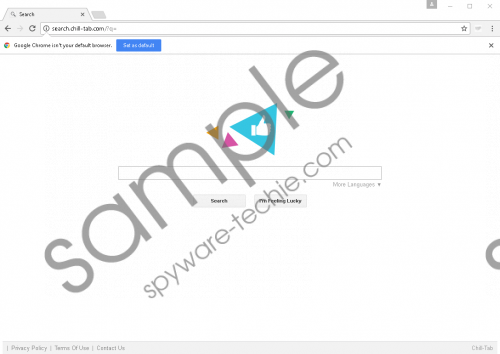 Chill Tab NewTab screenshot
Scroll down for full removal instructions
Like the vast majority of browser extensions, the Chill Tab NewTab extension, as well as the promoted search engine, can collect certain non-personally identifiable information. The browser extension is programmed to record websites visited, time spent on those websites, language preferences, browser types, technical characteristics of the OS, and IP address, the latter of which is regarded as non-personally identifiable, according to the privacy policy of the extension. Personal information is said to be collected for the purpose of responding to users' inquires and making statistics on the use of the program. Personally identifiable information includes details revealed by users themselves when communicating with the representatives of the software. If you do not want risk revealing your personally identifiable information when using the search engine pushed by Chill Tab NewTab, remove the unwanted program from the computer.
When it comes to removal, we recommend relying on a reputable security program. If the PUP has been installed without your supervision or permission, it is worth checking the whose system for other unsolicited programs running on your PC. Our instructions below will help you remove Chill Tab NewTab from the Chrome browser. An in-depth system analysis can be carried out only by a reputable malware and spyware prevention tool, so, if you do care about your online privacy, take measures to avert similar and more serious incidents in the future.
Remove Chill Tab NewTab
Open the browser.
Click the three dots in the upper-right corner of the browser.
Click More tools and select Extensions.
Remove Chill Tab NewTab.
In non-techie terms:
Chill Tab NewTab is a potentially unwanted program (PUP), the presence of which on your PC may lead to undesirable consequences. The extension alters the settings of the Chrome browser in order to provide you with more efficient Internet browsing. However, the search results provided by the search engine offered may include unreliable links taking you to deceptive websites. If Chill Tab NewTab is not necessary any longer, remote it from the computer without hesitation.