Do you know what Checkspeedsearch.com is?
Checkspeedsearch.com is a browser hijacker currently working on Mozilla Firefox only. It has been classified as a browser hijacker not without reason, of course. Research conducted by our experienced malware researchers has shown that users do not willingly set Checkspeedsearch.com on their browsers. In most cases, they usually discover their homepages and search engines changed against their will after installing software downloaded from the web, most probably, an untrustworthy file-sharing website. No matter this infection has slithered onto your computer illegally and changed the main settings of your browser, or you have set it voluntarily as your homepage and default search tool, you must still eliminate this dubious search provider as soon as possible. Believe us; a legitimate-looking tool for searching the web is not necessarily trustworthy even though it seems to be fully reliable at first glance. A search provider becomes immediately untrustworthy if it is set on users' browsers without their knowledge. Unfortunately, it is usually not the only drawback these unreliable search tools have.
Have your browser has already been hijacked and you see Checkspeedsearch.com when you launch it? If the answer to this question is "yes," we recommend going to remove it as soon as possible because it is more likely that it will cause problems instead of making it possible to surf the web more effectively. Research conducted by our malware researchers has shown that Checkspeedsearch.com uses Google search engine, i.e. it redirects all the entered search queries to Google, which is a legitimate search provider. Because of this, many users believe that it is a reputable search provider too. Unfortunately, it is not exactly true. It has been found that Checkspeedsearch.com might collect information about users. To find out what types of information this search provider collects, our researchers have inspected its Privacy Policy carefully. It is stated there that two types of information about users are going to be recorded: personal information and anonymous information. Users are told that it gathers personal information to provide them "with a better use," whereas anonymous information is collected to enhance the overall experience. Although this does not sound very dangerous, you should not let Checkspeedsearch.com perform this activity even though you have found it quite a useful tool because it collaborates with advertising companies and other third parties and, as a consequence, might disclose the gathered data to them. This is where all the problems usually begin.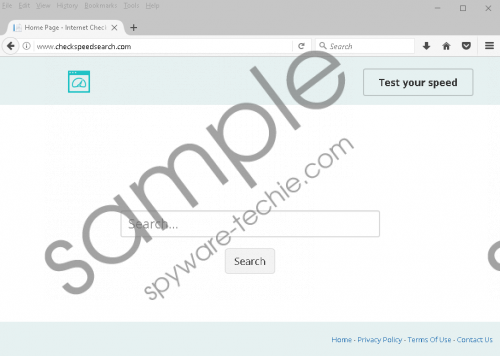 Checkspeedsearch.com screenshot
Scroll down for full removal instructions
Although Checkspeedsearch.com has a search box, returns search results, and even allows users to check the speed of the Internet connection with the click of a button, we cannot call this search provider a legitimate search tool. As has been mentioned above, it changes browsers' settings without permission and might gather information about users, but these are not its only drawbacks. Researchers say that it should not be called a reputable search tool also because it enters computers illegally. Specifically speaking, it enters computers bundled with third-party software, so it is not at all surprising that so many users know nothing about its entrance and cannot explain when and how it has appeared on their browsers. If the Checkspeedsearch.com browser hijacker has entered your PC unnoticed successfully either, it means that your computer is unprotected and other infections can easily enter your system again too. Do not let them enter your PC without permission – install a security application to ensure the system's maximum protection. You could surf the web without fear too after enabling security software on your system because no malware could enter your PC ever again.
Checkspeedsearch.com is not a typical browser hijacker in a sense that it does not simply set itself as a homepage and default search engine. Instead, it installs the Check Speed Search extension to alter browsers' settings. Because of this, the only way to remove it is to erase this extension fully. Do not worry; it will not be an extremely challenging task, especially when we have provided the manual removal guide below this article. Of course, you can always erase the undesirable extension with an automatic malware remover.
How to remove Checkspeedsearch.com
Mozilla Firefox
Open Mozilla Firefox and press Ctrl+Shift+A.

Select Check Speed Search from the Extensions menu.
Remove the undesirable extension.
In non-techie terms:
At first glance, Checkspeedsearch.com looks like an ordinary search provider, but it is not as trustworthy as it claims to be for sure. Research has shown that it is nothing more than a browser hijacker that changes browsers' settings without permission and then starts gathering information about users. It might share the gathered information with third parties. Nobody knows anything about them, so there is a possibility that among them are disreputable companies. Because of this, online privacy-related problems might quickly arise.