Do you know what CheckMeUp is?
CheckMeUp is a potentially unwanted application. The guys at our research lab say that it is an adware program even though its initial function is to measure your Internet speed and your data usage. The fact that it is impossible to download CheckMeUp at the official website should be enough to convince you that this application is highly suspicious and it cannot be trusted. If you care about your system's security, you should remove CheckMeUp from the PC today. On top of that, you should check whether your computer is absolutely safe and clean.
The reason we urge users to check their computers for potential threats is that CheckMeUp does not travel alone. As it has been mentioned in the first paragraph, the official website at checkmeup.co does not contain a direct download link. Thus, the only method of distribution CheckMeUp can employ is bundled downloads. It means that this application enters your system together with other potentially unwanted adware applications when you download them from third-party websites. It is not surprising because CheckMeUp is identical to SpeedChecker adware application, and the latter is also distributed in that kind of manner.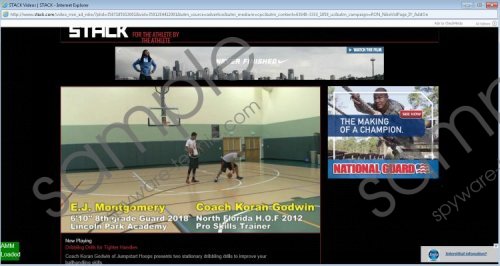 CheckMeUp screenshot
Scroll down for full removal instructions
As far as the associations are concerned, CheckMeUp is similar to Remarkit, VeriBrowse, Passwidget and other unreliable applications. It may also arrive bundled with RegClean Pro, RocketTab, YTDownloader and similar potentially unwanted applications. Unlike other adware applications that do not manifest their presence, CheckMeUp is more conspicuous about it – this application pops into action at the bottom right of your screen. It says that it measures your internet speed, and you can check whether your Internet service provider really provides with the kind of speed promised on your contract.
However, disregarding the fact whether CheckMeUp really provides you with the promised service or not, this application is ad-supported. It means that the program will collect information on what websites you visit in order to generate your online profile. This profile will be used to create a stream of tailored advertisements. These advertisements will appear on your browser each time you access popular online shopping malls. Technically, these ads should help you purchase your favorite goods at the lowest price possible, but no one can guarantee that the CheckMeUp ads are reliable.
You may risk exposure to corrupted websites if you click any of the CheckMeUp ads. Hence, to protect yourself and your computer from possible threats, you need to uninstall CheckMeUp right now. You should also run a full system scan and check whether you need to terminate any other undesirable application. Also, one of the best ways to protect your PC from harm is acquiring a licensed antispyware application.
How to remove CheckMeUp
Windows 8
Drag mouse cursor to the bottom right of the screen.
Click Settings on Charm bar and go to Control Panel.
Open Uninstall a program and remove CheckMeUp.
Windows Vista & Windows 7
Open Start menu and select Control Panel.
Go to Uninstall a program and remove CheckMeUp.
Windows XP
Click Start menu button and go to Control Panel.
Select Add or remove programs and uninstall CheckMeUp.
In non-techie terms:
CheckMeUp is an adware application that may cause severe computer security issues, so you have to get rid of it immediately. For a secondary software removal method, please refer to the other set of instructions below this article.