Do you know what Cheap Coupon is?
Cheap Coupon is a browser add-on that is aimed at enhancing your browsing and shopping experience. The program used to be advertised at cheapcoupon.info, which is no longer active, but that does not mean that the program is not circulating on the Internet. Cheap Coupon is bundled with various free programs, including other browser add-ons, system optimization programs, and some other desktop programs.
Cheap Coupon is based on the JustPlugIt browser add-on creation engine which has recently drawn malware researchers' attention, because a lot of computer users complain about JustPlugIt-based browser add-ons. Cheap Coupon is very similar to Coupon Builder, LionSales, SaleMaker, and many other advertising-supported programs, all of which should be recommended for the computer.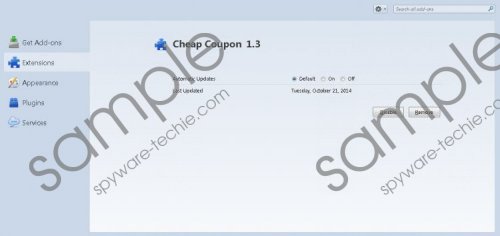 Cheap Coupon screenshot
Scroll down for full removal instructions
Cheap Coupon, as well as other JustPlugIt programs, is programmed to display third-party web banners, pop-ups, and other advertisements. None of the advertisements displayed is owned by Cheap Coupon; moreover, Cheap Coupon is not liable for the advertisements shown on your screen. As a result, you use the program at your own risk. If you want to bypass deceptive advertisements aimed at making you download malware or revealing your personal information, you should remove Cheap Coupon from the computer as soon as possible. It is important to note that not all Cheap Coupon ads are malicious; some of the advertisements may promote famous and renowned products, but, in some cases, you might get tricked by phishing websites.
Another reason why you should not delay removing Cheap Coupon from your computer is the fact that the program may be monitoring you. The Cheap Coupon browser add-on may be recording your clicks, impressions, browsing history, and other non-personally identifiable information. Cheap Coupon collects information about you so that the developers of the program could determine your browsing patterns or share the information with third parties. If you do not want to risk your privacy, you should remove Cheap Coupon from the computer as soon as you can.
Below you will find our step-by-step instructions on how to remove the unwanted program but our advice is to install a reputable security program. If you want to be sure that no malicious files are present on the computer, install a powerful anti-malware program which can fight off Trojan horses, browser hijackers, adware programs, ransomware infections, and many other malicious programs.
How to remove Cheap Coupon
Windows Vista and Windows 7
Click Start.
Select Control Panel.
Click Uninstall a program.
Remove Cheap Coupon.
Windows XP
Open the Start menu.
Click Control Panel.
Select Add or Remove Programs.
Uninstall Cheap Coupon.
Windows 8
Press Win+R and click control panel.
Click OK.
Select Uninstall a program.
Remove Cheap Coupon.
In non-techie terms:
Cheap Coupon is a browser add-on that can be removed from the computer by certain malware and spyware removal programs, and our team recommends that you implement SpyHunter. This program is capable of dealing with multiple threats, including ransomware, rootkits, rogue anti-virus programs, browsers hijackers, and many other threats. In case you do not know how to install the recommend program, use the following installation guide.