Do you know what Centerplaceofupgrade.pro is?
Centerplaceofupgrade.pro is a string in a URL of a webpage urging you to install an update for the Adobe Flash Player. You are likely to see the "https://soft4update" string in front as well. If you land on such a website, you want to close the browser immediately. If you interact with any of the messages or alerts represented via the scam page, you could be tricked into downloading potentially unwanted programs, hijackers, adware, and other kinds of malware, which we are sure you want to avoid. Have you downloaded the fake update and installed malware already? If you have, you need to inspect your system and delete potentially malicious threats immediately. Hopefully, we can help you remove Centerplaceofupgrade.pro scam-related threats from your system as well.
If you were routed to the Centerplaceofupgrade.pro scam page, it is possible that you were routed via an unreliable website or by clicking a corrupted link or advertisement found online. If that is the case, you want to make note of the website or the webpage that caused this incident because you can no longer trust it. We suggest not visiting this site or page ever again. It is also possible that adware, a hijacker, or a PUP (potentially unwanted program) is responsible for redirecting you to the scam page. Install a trusted malware scanner, and you will find out soon enough if you need to delete any threats from your system. We strongly recommend employing a malware scanner if you have interacted with the pop-ups, messages, and installers represented via Centerplaceofupgrade.pro already. According to our research team, besides promoting Opera Browser, legitimate security tools, and other harmless programs, it also could promote adware (e.g., SafeFinder, RelevantKnowledge, or PremierOpinion), PUPs, and malware.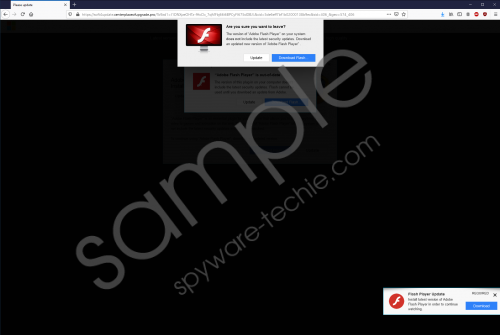 Centerplaceofupgrade.pro screenshot
Scroll down for full removal instructions
Initially, the Centerplaceofupgrade.pro scam begins with the warning that you need to update or install Flash Player. The Adobe Flash Player is the kind of software that makes it possible to load graphics and videos on certain websites, including video-streaming and gaming websites. Unfortunately, in most cases, schemers and hackers are hiding behind the random requests to update or install the software. Therefore, you should become immediately suspicious once the Centerplaceofupgrade.pro request to update the tool shows up. Furthermore, you have to pay attention to the URL itself. If that wasn't obvious already, let us tell you that soft4update.centerplaceofupgrade.pro is not the kind of website that you can trust to install any kinds of updates. Unfortunately, the scam website could go full-screen, and some victims might think that they have no other option but to install the update. Also, the notifications and pop-ups use familiar logos and legitimate-looking messages to convince you to do the same.
Hopefully, you have not been tricked by the Centerplaceofupgrade.pro scam, and you can close the web browser representing it. Obviously, even if you have not interacted with the pop-up downloader, you still need to inspect your system because malware could be responsible for introducing you to the scam in the first place. Ideally, no threats exist on your system, but even if that is the case, you still want to clear browsing data of the affected browsers to ensure that there are no leftovers. The programs that could have been downloaded with the fake update must be removed too. Some of these programs you might be able to uninstall; however, we strongly recommend installing legitimate anti-malware software to delete Centerplaceofupgrade.pro scam-related infections and also secure your system at the same time.
Remove Centerplaceofupgrade.pro-related programs and components
N.B. Not all programs and malware downloaded with the fake update will be uninstallable.
Open the Windows Start menu and click Control Panel.
Move to Uninstall a program and check the recently installed apps to check for unwanted ones.
Right-click the unwanted application and choose Uninstall.
Open the browser that redirected you to the scam website.
Tap keys Ctrl+Shift+Delete at the same time to access a data clearing menu.
Select an appropriate time range and boxes and then clear/delete this data.
In non-techie terms:
If you are introduced to notifications via soft4update.Centerplaceofupgrade.pro, you need to pay no attention to them because they are fictitious and set up only to introduce you to malware, adware, and PUPs. Whether or not you have interacted with the scam installer, you need to inspect your system immediately because it is possible that malware or PUPs exist on your system. Obviously, if they exist, you need to delete them immediately. Removing Centerplaceofupgrade.pro pop-up related programs can be simple or very complicated. That depends on what is installed. This is why we strongly recommend installing an anti-malware program. It will scan your system and automatically remove any threats that might exist. Moreover, it will protect your system against malware in the future. Do not forget to clear the browsing data on the affected browser afterward to ensure that no leftovers remain.