Do you know what Ccryptor Ransomware is?
It is probably obvious what Ccryptor Ransomware is just by looking at its name. It is a malicious computer infection that has been programmed to encrypt your personal files. Ransomware infections are dangerous and obnoxious because sometimes there is no way to counter them but to delete the affected files.
While there isn't much chance that a public decryption tool will be soon available for this infection, you should clearly focus on removing Ccryptor Ransomware from your computer today. Please scroll down to the bottom of this description for the manual removal instructions, and do not hesitate to address a professional technician if necessary.
It is not clear where Ccryptor Ransomware comes from, and we are not sure the sample we analyzed even works properly. The point is that ransomware programs are supposed to drop ransom notes upon the infection. Ransom notes are often TXT format document files that contains messages from the criminals to the infected users. According to the code that our team has researched, Ccryptor Ransomware is SUPPOSED to have a ransom note, and its filename should be read me.txt. However, we received no ransom note in our case, and so, it might be possible that this infection is underdeveloped.
If that is true, it means that soon a newer version of this program will be released, and it might be even more dangerous than the current one. Also, it could also be possible to restore your files if you addressed a professional who would go with your through various file recovery options. Normally, it is possible to retrieve at least some of your files, so there is no need to panic. On the other hand, it would be for the best to avoid the likes of Ccryptor Ransomware altogether. So, how does this infection spread around, and what can we do to prevent it from entering our systems?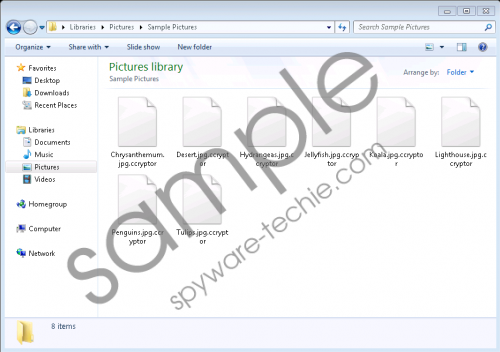 Ccryptor Ransomware screenshot
Scroll down for full removal instructions
Our research team says that this program probably employs the usual ransomware distribution methods, meaning: spam email and corrupted RDP connections. Users are tricked into opening document files that look legitimate, but in fact they are malware installer files. Spam emails that distribute ransomware often look very sophisticated. It is no surprise that they manage to convince users to download and open the attached files. Such emails often come with urgent messages, and if the users don't double-check, they might get convinced that the files are important, and they must open them immediately.
The moment you open an unfamiliar file, you infect your system with Ccryptor Ransomware. The best way to stop the infection from taking place is to scan the received files with a security tool of your choice. Even if it takes time, it would definitely prevent you from suffering the ransomware infection consequences.
Now, if Ccryptor Ransomware manages to enter your system, it will encrypt most of your picture and document format files. The affected files will also receive the ".ccryptor" extension. That is a common thing that every single ransomware infection does. But, to be honest, you do not need this extension to know which files were encrypted because the system simply cannot read them anymore, and so their icons change into something blank.
As there is no ransom note, Ccryptor Ransomware cannot tell you what to do. Also, it doesn't provide you with any way to contact its developers. Either way, contacting these people would be a bad idea. You should remove Ccryptor Ransomware right now, and then look for ways to get your files back. If you have a system backup, the problem is solved. Just delete the encrypted files and transfer the healthy copies back into your computer.
As for the infection, you need to remove every single file associated with the program for good. If you do not want to do it on your own, you can invest in a security tool that will help you terminate Ccryptor Ransomware automatically. At the same time, you would be able to scan your system for other potential threats.
However, please remember that no security tool will protect you from a ransomware infection, if you do not change your web browsing habits, and if you are not careful about the files you download. A lot depends on how you deal with unfamiliar content, too.
How to Remove Ccryptor Ransomware
Delete unfamiliar files from Desktop.
Delete unfamiliar files from Downloads.
Press Win+R and type %TEMP%. Click OK.
Remove the most recent files from the directory.
Press Win+R and type %APPDATA%\Adobe. Click OK.
Delete the AdobeUpdate.exe file from the folder.
Use SpyHunter to perform a full system scan.
In non-techie terms:
Ccryptor Ransomware is a dangerous computer infection. You might have installed this program on your PC accidentally. This program encrypts your personal files. Normally, ransomware asks for a ransom to release your files, but this infection seems to have forgotten its ransom note. Therefore, you just need to remove Ccryptor Ransomware from your system for good, no questions asked. While manual removal is possible, it is recommended that you perform an automatic malware removal with a reliable antispyware tool.