Do you know what CastVPN is?
CastVPN is a free VPN program that is advertised as a tool that can allow users to watch favorite TV shows for free. At the time of research, the only source presenting the suspicious PUP (potentially unwanted program) was the Chrome web store. Obviously, only Chrome users could install it. So, did you use the chrome.google.com/webstore/detail/castvpn/gcnfpjoimnmmdiokmpaebcacnnpdifbn installer to acquire the extension? Our researchers have also found that the program used to be presented via an official website, castvpn.com; however, it cannot be reached right now. This is not surprising considering that the application was never really presented in a transparent manner. There is a good chance that the PUP was downloaded onto your PC and browser with the help of a third-party installer. If that is the case, you want to install and run a legitimate malware scanner because if malicious threats were downloaded along with the extension, you need to get rid of them fast. Are you interested in the removal of CastVPN? If you are, you will be happy to find a comprehensive guide below.
Regardless of how you downloaded the suspicious CastVPN, the chances are that you were provided with the Virtual Private Network that you expected. Because the program works to some extent, it is no wonder some users choose to keep it installed. However, if you want to understand the PUP better, you need to look at the bigger picture. Our researchers were able to review the Privacy Policy before the site was taken down, and it was found that CastVPN can collect data, reveal the type of the browser, as well as record the websites visited and the time spent on them. The VPN program can also record personal information, which is, without a doubt, something you should be most concerned about. If you do not delete the PUP from your operating system, it can record data that is private and sensitive. This data includes your IP address, identifying documents, email address, full name, screen name, home address, billing and payment information, and other information that might be requested by the program itself. If that is not a reason to remove a program, we do not know what is.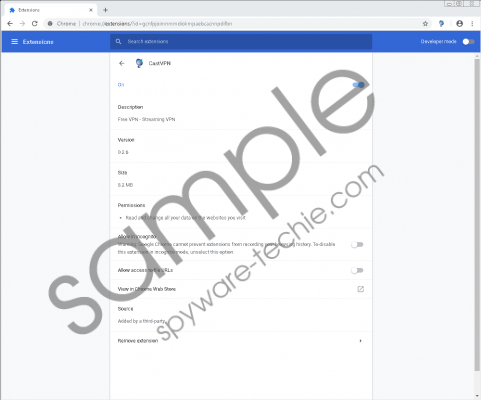 CastVPN screenshot
Scroll down for full removal instructions
Another extremely suspicious thing about CastVPN is that its activity is not represented in a clear way. If you download the extension, of course, it is visible. What we are more concerned about is the process that the PUP runs. This process runs without a visible indication, and it is not possible to stop it from starting on the startup. That means that it runs at all times, without you even knowing about it. It is likely that this process is linked to the PUP's ability to spy on users and record information about them and their activity. Overall, it should be obvious by now that the program is intrusive and clandestine, and that is the perfect reason to remove it right away. Luckily, it should not be difficult to delete CastVPN.
Do not be intimidated by the steps you can see below. Although there are quite a few of them, you should be able to handle them with ease. The first part in the removal guide shows how to remove CastVPN from Windows, and the second one – how to eliminate the undesirable extension. If you are confused, you have found other threats or PUPs, you do not have time, and you want to secure your operating system against malware and other unwanted programs, the best thing you can do is install a legitimate anti-malware program. Once it clears your operating system and browsers from threats, it will keep it protected against all other suspicious and malicious programs that might try to slither in.
Remove CastVPN
From Windows:
Tap Win+R to access the RUN dialog box.
Type regedit.exe and click OK to launch Registry Editor.
Navigate to HKLM\SOFTWARE\Wow6432Node\Google\Chrome\Extensions\.
Delete the key named gcnfpjoimnmmdiokmpaebcacnnpdifbn.
Navigate to HKLM\SOFTWARE\Wow6432Node\Microsoft\Windows\CurrentVersion\Uninstall\.
Delete the key named CastVPN_is1.
Delete the key named CastVPN in these locations:

HKLM\SYSTEM\ControlSet001\services\
HKLM\SYSTEM\CurrentControlSet\services\
HKLM\SOFTWARE\Microsoft\Windows NT\CurrentVersion\Schedule\TaskCache\Tree\
HKLM\SOFTWARE\Wow6432Node\

Exit Registry Editor and then launch Windows Explorer by tapping Win+E.
Delete the folder named CastVPN in these directories (enter the name into the field at the top to access):

%PROGRAMFILES%
%PROGRAMFILES(x86)%

Delete the tasks named CastVPN and CastVPN.job in these directories:

%WINDIR%\System32\Tasks\
%WINDIR%\Tasks\

Empty Recycle Bin to complete the removal and then scan your system to check for leftovers.
From Google Chrome:
Launch the web browser and tap keys Alt+F.
In the menu on the right click More tools and then Extensions.
Identify the undesirable extension and then click Remove.
In non-techie terms:
The suspicious CastVPN is introduced to you as a beneficial program, but it is just another PUP that requires removal. According to our malware researchers, the program acts in a clandestine manner, and it can also collect an impressive amount of highly sensitive, personally identifiable information. Due to this, we strongly recommend deleting CastVPN from your operating system and Google Chrome browser immediately. The instructions above show how to do that manually, but, without a doubt, it is best to leave the task for a legitimate anti-malware program. If other PUPs or even malicious threats exist, they will be eliminated at once. Furthermore, you will gain full-time protection, which is crucial.