Do you know what Cash Reminder is?
Cash Reminder is an adware program that is promoted as a useful tool that should help you save money when you shop online. It says that if you have this program installed, you can easily earn money online. Nevertheless, our research lab team says that the sooner you remove Cash Reminder from your computer, the better. There is nothing reliable about this application, especially as it is highly vulnerable to third-party exploitation. These kinds of programs could be easily used for malware promotion and other online marketing schemes that would put you and your computer in danger.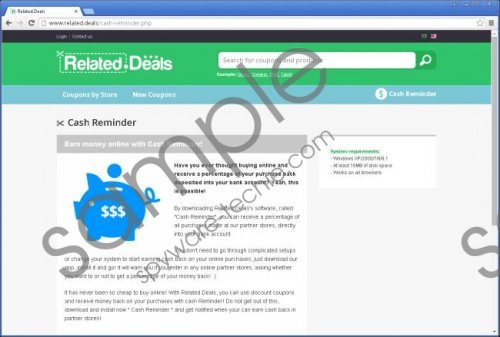 Cash Reminder screenshot
Scroll down for full removal instructions
If we were to take a closer look at the program's official website, we would see that Cash Reminder is compatible with Windows XP, Windows 2000, Windows 7, Windows 8, and Windows 8.1. This would mean that Cash Reminder can affect almost any computer out there. The official website even provides a direct download link that actually works, but let us be honest here. Just how many users would actually come to this website and download the application directly? Barely any. It is far more likely that Cash Reminder spreads around via third-party bundles, and it enters your system together with a list of other potentially unwanted applications.
Thus, when you set to remove Cash Reminder from your computer, you have to remember that there are most probably more undesirable guests that slow down your system and collect your web browsing history. You might wonder how such programs like Cash Reminder could cause you any threats, when they all want to do is help you purchase something at a lower price. The point is that this is just a façade, and by displaying commercial ads Cash Reminder actually makes money for its developers every single time you click the outgoing link. Adware programs employ the so-called pay-per-click system to generate profit. There is nothing illegal about that, but the system is so easy to use, that even cyber criminals could employ it to promote malware or gather personally non-identifiable information.
The easiest way to notice that you have unwanted adware programs on your computer is to recognize the increasing flood of pop-up ads and other advertisements on Wal-Mart, Amazon, and similar shopping pages. Usually, adware programs also add extensions to your default browsers, but Cash Reminder is not one them. Instead, this program functions through a service that runs in the system background. The service is called CashReminder.exe, and whenever the program is running, you can find the service in the list of the running processes. All you have to do is open the Windows Task Manager.
You obviously have to remove Cash Reminder before this annoying nuisance grows into something bigger and uglier. Don't forget that quite often pop-up ads are exploited by malevolent third parties to promote and distribute their content. I am probably repeating myself already, but if any of those links lead to a website that is part of a malware distribution network, you could be in deep trouble.
Do yourself a favor and delete this application today. Luckily, it is very simple to do via the Control Panel. While you are at it, check the list of installed programs for any other unfamiliar applications. To be absolutely sure that your computer is safe and clean, scan it with the SpyHunter free scanner.
How to Delete Cash Reminder
Windows 8 & Windows 8.1
Drag the mouse cursor to the bottom right of your screen.
Click Settings on the Charm bar and go to Control Panel.
Select Uninstall a program and remove Cash Reminder.
Windows Vista & Windows 7
Click the Start menu and access Control Panel.
Open Uninstall a program and remove Cash Reminder.
Windows XP
Open the Start menu and select Control Panel.
Double-click Add or remove programs and uninstall Cash Reminder.
In non-techie terms:
Have you been experiencing an onslaught of annoying commercial notifications? You might have accidentally installed Cash Reminder on your PC. This adware program makes these annoying pop-ups appear on your browser. This could lead to serious computer security issues, so you should remove Cash Reminder right now. For the alternative software removal method, you can refer to the additional set of instructions below this description. Should you have any further questions, do let us know in the comment box.