Do you know what Caramava Ads are?
If you are seeing Caramava Ads on various websites, especially commercial ones, it is very likely that an undesirable application called Caramava has infiltrated your system. The specialists of spyware-techie.com have implemented a research and found out that this program is just a simple advertising-supported application (adware) which seeks to advertise products and drive traffic to entirely different websites. Thus, it is not worth expecting that this adware will provide you with tools for searching the web and finding the best prices as promised. We do not recommend keeping suspicious applications on the system, which is why we have prepared the manual removal instructions that will help you to remove Caramava. As you have probably understood, Caramava Ads will not bother you after the removal of this adware as well.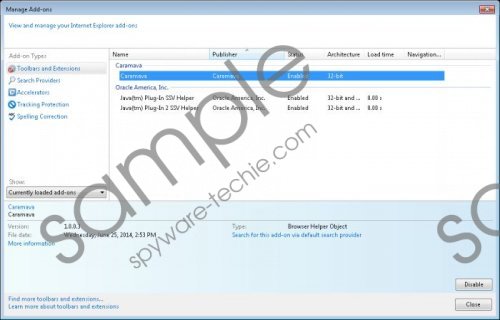 Caramava Ads screenshot
Scroll down for full removal instructions
Caramava not only generates various commercial ads. It has been found out that this application is capable of collecting information associated with your activities on the web. Thus, if you decide to keep this program on your system, you have to keep in mind that your search queries, the websites that you visit, and other activities on the web are being recorded. According to the information provided on the official websites of Caramava (caramava.com), all the collected data will be shared with third parties in order to provide you with personalized ads. Besides, it will contribute to the improvement of the service. Luckily, Caramava is not interested in your personal information; however, you can get rid of this application and stop the suspicious activity anytime.
Even though Caramava Ads do not seem harmful at first sight, it is very likely that this program will not only allow you browse the web without any interruptions, but also might cause harm to your system's security. Do you want to protect your system from threats? If so, you should ignore all those commercials that might appear on your screen. Keep in mind that you might click on ads accidentally as well; thus, the only reliable way to protect your system from potential threats is to get rid of Caramava entirely. If you get rid of it, Caramava Ads will disappear as well.
Caramava is published by SuperWeb LLC; thus, you will be able to erase it from the system easily and quickly. It is your choice whether to delete it manually or automatically because both methods are reliable. If you have decided to get rid of Caramava automatically, you will have to acquire a reputable malware remover. Make sure that you choose a trustworthy one because those unreliable ones might cause harm to your system.
How to get rid of Caramava Ads
Windows 8
Tap the Windows key + R simultaneously.
Type in control panel in the field and click OK.
Select Uninstall a program.
Find the application that you wish to erase.
Select it and then click the Uninstall button.
Windows 7 and Vista
Click the Start button.
Select Control Panel.
Click Uninstall a program.
Right-click on Caramava.
Select Uninstall to delete it.
Windows XP
Click the Start button.
Select Control Panel.
Click Add or Remove Programs.
Locate the application that has to be removed from your PC.
Select it and then click the Remove button.
In non-techie terms:
In order to prevent various suspicious applications from entering your system in the future, you should definitely acquire a reliable antimalware tool and keep it enabled all the time. However, you should also keep in mind that it is advisable to download applications from trustworthy sources only and install them with great care. If you read all the information provided in the setup wizard carefully all the time, there is a big chance that you will be able to avoid unfamiliar software.